Mosaik - Competition Horse and Brood Mare
Mosaik is a kwpn mare who was purchased by High Offley Stud in 1998 as a 4 year old, and produced by our rider Carl Freeman who brought her through the age classes jumping newcomers and foxhunters with many wins and placing's.
As a 6 year Carl Freeman and Mosaik competed on the Spanish sunshine tour where she was one of the most consistent young horses of the tour. Mosaik continued to compete in open competitions but unfortunately suffered an eye injury that cut her career short, we made the decision to retire Mosaik from competition at the age of 7, where she become one of our foundation brood mares.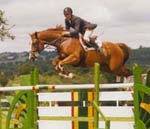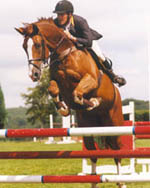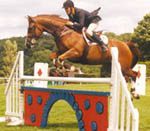 Mosaik's pedigree has many excellent bloodlines her sire Laramee jumped internationally and had two legendary stallions in his pedigree, Landgraf I and Calvados. Mosaik's mother is a proven breeder of showjumpers as well as Mosaik Dam Cecil also bred Calando an international show jumper who was competed by Vicky Beven.
As a brood mare Mosaik has produced many exceptional young horses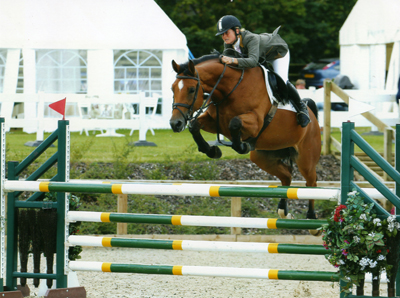 Miss Arko
With her fantastic quality and proven jumping ability we decided to use a special stallion for her first foal, and she was bred to Nick Skelton`s Olympic stallion Arko III, the foal Miss Arko was an exceptional show jumper and was jumped by Emma Shaw competing at Addington at the British young horse championships.
Arturo`s Renaissance
Another one of Mosaik's foals in Arturo`s Renaissance bred to our own Arturo 8, Arturo`s Renaissance is currently jumping 1.30m and showing lots of promise to proceed further.
Mosaik is now fully retired after producing many excellent horses, she is now chilling in the field with our other OAP`s.