Nimmerdor - Dutch Warmblood Stallion
Nimmerdor - Dutch Warmblood Stallion Nimmerdor, was born in 1972 and was presented at the inspection as a 3 year old. He was a bit narrow, thin and long-legged. He resembles more closely a two-year old rather than a three-year old. Yet he was unfazed by the strange environment and look confident and bold throughout the stallion test. His striking shoulder and strong, easy trot, which he showed his excellent. This was the entrance to the equestrian world which marked the introduction of the ultra famous sire of show jumpers. A Dutch warmlood stallion with the typical Dutch recipe from a good sport horse, dressed in an attractive model. Equipped with a sports character, with good movement and abilities to excel in the competition arena.
Nimmerdor was purchased by VDL Stud from breeder JA Dijkstra Woudsend, with Nimmerdor at the help VDL Stud would build itself into a global horse business with many approved stallions, broodmares and fantastic sport horses, many of which carry Nimmerdor blood.
At his stallion test Nimmerdor received an 8 for the riding test and jumping under saddle, and a 9 for free jumping. The report states that the stallion has a good character, but sometimes shows resistance.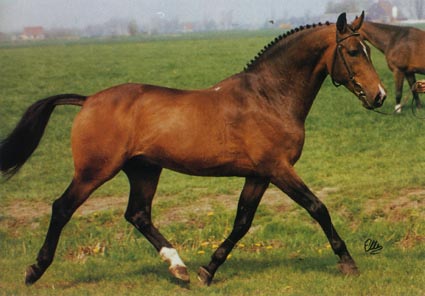 Nimmerdor quickly grew into a real stallion with breadth and depth. Due to his appearance as well as his excellent pedigree he was popular with breeders.
Nimmerdor was sire by stallion Farn out of a daughter of the thoroughbred Koridon, Ramonaa.
After his initial breeding season Nimmerdor entered the equestrian sport of show jumping during the seventies, when many stallions did not combine competition and breeding. Nimmerdor started at national level in the KNF, performing very well in the sport. In almost most classes, he managed to gain a placing. Nimmerdor was competed by Henk Nooren before forming one of the great teams with Albert Voorn.. Under the expert guidance and training of the two top riders, Nimmerdor`s unfolded showing off his great talents. In the showjumping ring Nimmerdor made very few mistakes, Albert Voorn was quoted as saying "This is truly one of the finest horse I've ever ridden Every rider dreams of something He has incredible quality and is super careful Sometimes that is to his disadvantage... .
In 1983 Nimmerdor covered 158 brood mares, while in the competition ring results in the World Cup qualifiers includes - eleventh in Amsterdam (!) 0-0 - 8 penalty points; - Fifth in Berlin; 0 - 0 - 0 penalty points; - Twelfth in London; 4 points; - Fifth in 's-Hertogenbosch; 0-4 penalty points; - Seventh in Antwerp; 0-4 penalty points; - Fifth in Paris; 4-0 penalty points. In other Grand Prix the following results are achieved: - second in the Grand Frisian Flag Price in Leeuwarden; 0-0-0 - fifth in the Grand Prix of Germany in Berlin; 0-0-0 - fourth in the Grand Prix of Zuidlaren; 0-0-0 - fifth in the Grand Prix Trophy for the Olympia in London, 0-0-0 penalty.
One of his first notable children in sport is its namesake Nimmerdor (from a Le Faquin subsidiary), which the American Tony d'Ambrosio has achieved great success. For example, D'Ambrosio and Nimmerdor won the Grand Prix of Culpepper (1986), St. Clement's Saratoga Cup in Northampton (1986), Childrens Service Horse Show in Hartford (1987) and Mid East Grand Prix (1987). This combination also won many other high placings in Grand Prix.
Another example of an excellent leaping Nimmerdor descendant stallion Zadok. The American top rider Hap Hansen had him under saddle. This combination ended in the final of the World Cup 1989 in Tampa on the 19th place. As a seven year old Zadok won a World Cup match, that of New York 1988 Other successes of the combination are: winner of the Grand Prix of Tuscon (1989), second in the Grand Prix of Del Mar in 1989, fifth in the Los Angeles Memorial Day Classic in 1989 and many high placings in the toughest races in America. Olympic Up to Date was the Nimmerdor trump card that Wiljan Laarakkers broke. This combination was reserve at the Seoul Olympics. They won include the World Cup competition in Amsterdam in 1986 and was fifth in the same race in 1987 A fifth place was also achieved in Paris (1988). Other significant achievements include second in the Grand Prix of Lucerne (1988); sixth in the Grand Prix of Twente in 1988 and second in the Grand Prix of Zuidlaren in 1989, the famous American rider George Morris Sniff Grand Prix released several times and high placings in World Cup races won with him. In America further: Den Ham and Ermelo Debbie Shaffner, Octavian Beezie Patton, Abound Christian Currey and Stay Tuned Richard Cheska.
The latter combination was first in the Grand Prix of Kansas in 1986 in Swedish service is Nasty Boy by Ake Hultberg. Bert Romp has Opstalan's Princess for Netherlands released internationally. Jenny Zoer had Walando a very good horse that suits them internationally.
Until now Nimmerdor KWPN breeding enriched with 17 sons. This share will because Nimmerdor still active is likely to increase in breeding. The first approved son, Telstar, was sold to America. Wiepke of Lageweg and Bouke Lodewijks bred the stallion out of a Holsteiner mare Folly Wise xx. Ulster from Lucky Star pref Antonio was adopted in 1981. The temperamental stallion with his huge trot mechanism was rejected in 1994 by descendants. The stallion Wellington from Patty choice pref Lucky Boy xx has developed into a valuable and versatile sire. Of this stallion we know good dressage horses as Ceylon and Luxaflex and the dressage producing son Farrington, but also a row of jumpers (VDL Jupiter, What a Game) and stallions (Glenn Ridge and Emilion) which were successful in Grand Prix jumping level. Wisconsin from Olanda ster perst. by Uppercut xx is the age of four approved. At age four he proved his talent by scoring. In the performance test for jumping under the man an eight and a nine-for free jumping Wisconsin was three times winner of the stallion competition. In 1986 he won the category for the young studs and a year later the next category. And to prove his versatility, he was in '89 winner of the dressage competition in the B category.
The year 1985 yielded three new Nimmerdor sons: Ahorn, Aram and Amethyst. An important crop because these stallions have now earned their spurs in breeding. The preference stallion Ahorn (from Hyazinthe host pref. Perst. Of Ladykiller xx) has developed into a prominent sire. He was himself a gifted international showjumper under Roelof Bril. Known jumpers Ahorn are Icamorka (Jerry Smit), Chaffinch Amal (Eric van der Vleuten), Ivory Francois Mathy and of course the approved stallions and Furore Hattrick, the brother of Amal. Aram has also inherited maternal jumping blood. He is pref from Miranda star. by Uppercut. Like Ahorn is Aram also become a producer of jumpers themselves. He is the father of Olympic champion De Sjiem, Jeroen Dubbeldam in 1998 for the best individual result in the Samsung Nations Cup and the 18-bore place in the world championship.
Other international cast Aram children Electrik II, WFE Balance, Herriot and Faron. Amethyst also has an interesting pedigree: his mother Paerel choice pref. is the thoroughbred Erdball, which are very good jumpers, among them (Apollo, Just Malone). Bergerac was admitted to the farm in 1986. In his mother's line jumping blood is stacked (The Shinto, Linky, Gyltaire).
One of the most notable jumpers of the moment is undoubtedly Nimmerdor's son Heartbreaker (from Bacarole star Silvano), which has penetrated the national show jumping. Quickly under Peter Geerink Heartbreaker first knew his spectacular jumping ways to settle before it was approved by the KWPN in 1997. Attention It is impossible to appoint Nimmerdor exercised through his daughters. Breeding on the enormous influence We supply a list of the stallions that have Nimmerdor mothers father: Dawn, Derrick, Doliart, Esteban, Eusebio, Faldo, Gershwin, Great Pleasure, Holland, Itens, Lancelot, Laroche and Now Or Never. The inheritance of power Nimmerdor is also not escaped abroad. Exceptionally Holsteiner mares may be with the sperm of our Farn-son inseminated and the seed of our top stud has been sold to distant corners of the world for several years.
Performance and exterior Nimmerdor is an exponent of the Dutch breeding that focuses on performance, but also the correct conformation carefully monitored. By his own performance, sports construction and appealing models of his children Nimmerdor approximates perhaps the closest the purpose of the Dutch breeding: performance with good and beautiful exterior. A class stallion that his stamp leads into each breeding only sporadically. However, such sires are vital because they not only attract global attention, but the entire breeding to a higher plan. Such sires are world class and Nimmerdor belongs to this rare category.
Nimmerdor Progeny
Horse
Year
Sire
Dam
Breed
DIRGRID
NIMMERDOR
NINGRID
KWPN
GALAXY16
1971
NIMMERDOR
CHINCHIN2
KWPN
DUKE50
1972
NIMMERDOR
-
DUTCH WARMBLOOD
WIEKARA
1972
NIMMERDOR
RILANA2
KWPN
OPSTALANS PRINCESS
1976
NIMMERDOR
ASTRID156
KWPN
TAGINE
1977
NIMMERDOR
LINDIE B
DUTCH WARMBLOOD
TAMINKA2
1977
NIMMERDOR
LEMINKA
KWPN
TANKWARTINE
1977
NIMMERDOR
OLWARTINE
KWPN
TELESTAR4
1977
NIMMERDOR
NATHALIE9
DUTCH WARMBLOOD
TELSTAR6
1977
NIMMERDOR
NATHALIE9
KWPN
TOVERFEE
1977
NIMMERDOR
OREADE7
KWPN
ULLA49
1978
NIMMERDOR
JOLISKA2
DUTCH WARMBLOOD
ULSTER20
1978
NIMMERDOR
LUCKY8
DUTCH WARMBLOOD
URSULA126
1978
NIMMERDOR
HOTICA
KWPN
GERDA65
1979
NIMMERDOR
VIOLA134
KWPN
SAMANTHA16
1979
NIMMERDOR
LIONE
KWPN
VENUS24
1979
NIMMERDOR
SONATHA
DUTCH WARMBLOOD
BARONES7
1980
NIMMERDOR
PASSE3
KWPN
DAVINE
1980
NIMMERDOR
VALINE3
KWPN
OLYMPIC AHORN
1982
NIMMERDOR
M HYAZINTHE
KWPN
Ahorn is a stallion with an impressive show jumping record competing in grand prix`s as well as world cup competitions gaining regular placings. Ahorn represented Holland in Nation Cups and was short listed for the Barcelona Olympics, which earned him the Prefix 'Olympic'.

Offspring of Ahorn are regular sights at showjumping events throughout the world competing at grand prix level, these include Tinto, Feisal, Anadolu Foxfire, Nissan High Valley Z, VDL Miss Ahorn, Dublin 3, Jerremy, V&L Chanel , Greco, Hendo, Furore, Giny, Ivoor and Iron amongst many others.

Progeny of Ahorn have earned over $1,000,000 in prize money and has been awarded keur status by the KWPN studbook.
RENKUM WOUDINA
1980
NIMMERDOR
TALANTA4
KWPN
WALDINA3
1980
NIMMERDOR
OHONNY
KWPN
WARONA
1980
NIMMERDOR
ONLINE2
KWPN
WELLINGTON3
1980
NIMMERDOR
PATTY7
KWPN
WENDELINE9
1980
NIMMERDOR
INGELINE
KWPN
WERDA3
1980
NIMMERDOR
SANDRIA3
KWPN
WILDINA2
1980
NIMMERDOR
RELANSE3
KWPN
WILLEKE5
1980
NIMMERDOR
LIENEKE4
KWPN
WISCONSIN3
1980
NIMMERDOR
OLANDA2
KWPN
WISETTE
1980
NIMMERDOR
SUSETTE15
KWPN
WISKE7
1980
NIMMERDOR
RISKA10
KWPN
WOLINA2
1980
NIMMERDOR
DOLINA12
KWPN
ZADOK2
1981
NIMMERDOR
SORAYA30
KWPN
ZALINE
1981
NIMMERDOR
P MINERVA
KWPN
ZALITA
1981
NIMMERDOR
PULITA2
KWPN
ZANCARA
1981
NIMMERDOR
SHORAYA
DUTCH WARMBLOOD
ZANDER6
1981
NIMMERDOR
OLANDA2
KWPN
ZANDOR10
1981
NIMMERDOR
CAROLIENTJE2
BRITISH WARMBLOOD
ZANDOR3
1981
NIMMERDOR
MOLGA
DUTCH WARMBLOOD
ZARONA7
1981
NIMMERDOR
OLINE16
KWPN
ZAZA9
1981
NIMMERDOR
PATRICIA16
DUTCH WARMBLOOD
ZELDINA
1981
NIMMERDOR
RELANSE2
KWPN
ZERINA8
1981
NIMMERDOR
MALIDA
KWPN
ZITTA2
1981
NIMMERDOR
TITTA4
KWPN
ZIVONA
1981
NIMMERDOR
OENONE5
KWPN
ZOMERFEE2
1981
NIMMERDOR
MIRANDA47
KWPN
ZORA10
1981
NIMMERDOR
NARINA8
KWPN
ZOZA2
1981
NIMMERDOR
TORIOSA
KWPN
ZWIGGY
1981
NIMMERDOR
TWIGGY2
DUTCH WARMBLOOD
ZYTRONORA
1981
NIMMERDOR
TROFEE6
ADORETTE8
1982
NIMMERDOR
SINJA8
KWPN
AEROBIC2
1982
NIMMERDOR
UKARLA
KWPN
AFKE
1982
NIMMERDOR
PEGGY172
AGLAYA3
1982
NIMMERDOR
SORAYA30
KWPN
AHORN3
1982
NIMMERDOR
M HYAZINTHE
DUTCH WARMBLOOD
ALDATO4
1982
NIMMERDOR
SHORAYA
DUTCH WARMBLOOD
ALDYBALIA
1982
NIMMERDOR
ORBALIA
KWPN
ALEXANDRIA36
1982
NIMMERDOR
RIANTE
KWPN
ALLEGRO43
1982
NIMMERDOR
POLDINE3
AUSTRIAN
ALONKA6
1982
NIMMERDOR
SASKIA65
WARMBLOOD
Alonka is an international showjumper competed by Rob Ehrens
ALPENTHAL
1982
NIMMERDOR
SILLERTHAL
DUTCH WARMBLOOD
AMETHIST
1982
NIMMERDOR
PAEREL
KWPN
Amethist is a successful modern sport horse with many successes in international sport with Dutch rider, Albert Voorn. Amethist is a stallion with an excellent competition record, winning his first National stallion competition in 1987/1988. As well as an excellent jumping record Amethist is a consistent sire of sport horse in by the showjumping and dressage arena.
ANDA15
1982
NIMMERDOR
LINDA98
KWPN
ANDOR9
1982
NIMMERDOR
OLANDA2
KWPN
ANGELINE10
1982
NIMMERDOR
INGELINE
KWPN
ANNETTE97
1982
NIMMERDOR
PASJA39
KWPN
APHRODITE14
1982
NIMMERDOR
CLEOPATRA20
KWPN
ARAM2
1982
NIMMERDOR
MIRANDA62
KWPN
Aram is a proven sire of performance horses, progeny of Aram include the 2000 olympic gold medal winner De Sjiem as well as KWPN approved stallions KWPN Faram, KWPN Graham and NRPS Adamo. Another son of Aram is Kondor who is performing in dressage at grand prix level. Aram himself competed internationally in the jumping ring.
ARSIS
1982
NIMMERDOR
ROSAMUNDE6
KWPN
AVENIR DE SAN PATRIGNANO
1982
NIMMERDOR
HALASSI
DUTCH WARMBLOOD
AVENIR12
1982
NIMMERDOR
HALASSY
KWPN
AVIOLA
1982
NIMMERDOR
UVIOLA
DUTCH WARMBLOOD
MERRY AFRIEDA
1982
NIMMERDOR
RAFRIEDA
KWPN
N-ALDATO2
1982
NIMMERDOR
SHORAYA
KWPN
N-Aldato is a horse with an excellent competition record with results that include the Golden Equippe-medal EK in la Baule and the Nations tournament in Aachen, 1991. He was also second in Mechelen in the Indoor Trophy for Breeding Stallions. In his jumping carrier N. Aldato has won Dfl.160.000 and his progeny have excelled themselves in the sports arena.
AKROBAAT
1983
NIMMERDOR
ONARMA
DUTCH WARMBLOOD
ARABELLA55
1983
NIMMERDOR
NONDRIA
KWPN
BARRANELS
1983
NIMMERDOR
VRIEPELS
KWPN
BEA75
1983
NIMMERDOR
LOESJE3
KWPN
BEATRIX47
1983
NIMMERDOR
TILETTE
DUTCH WARMBLOOD
BEAUTY118
1983
NIMMERDOR
SONATHA
KWPN
BERGERAC3
1983
NIMMERDOR
MOLGA
KWPN
BERNADETTE4
1983
NIMMERDOR
DERINA4
KWPN
BIANCA132
1983
NIMMERDOR
NAVARET
KWPN
BONNETTE3
1983
NIMMERDOR
PALETTE25
DUTCH WARMBLOOD
BONNY114
1983
NIMMERDOR
VALENTINA74
DUTCH WARMBLOOD
BRUMINKA
1983
NIMMERDOR
USMINKA
KWPN
From proven Oldenburg lineage that has also produced the licensed stallions Topas, Vindicator and Iowa {1990}.
BYAZINTHE
1983
NIMMERDOR
HYAZINTHE7
KWPN
a pedigree of Nimmerdor x Ladykiller xx Byazinthe is sports mare with an excellent international jumping record.
BYOU
1983
NIMMERDOR
NIKE19
DUTCH WARMBLOOD
CIVALDA UTOPIA
1983
NIMMERDOR
VERA UTOPIA
KWPN
INVESTMENT3
1983
NIMMERDOR
EVITA14
DUTCH WARMBLOOD
JAAGERMASTER
1983
NIMMERDOR
COURVILE
DUTCH WARMBLOOD
NICKNAME
1983
NIMMERDOR
NILUCHENNE
KWPN
NORMAN5
1983
NIMMERDOR
MARY15
KWPN
CALTHA B
1984
NIMMERDOR
URCHA
CANDY35
1984
NIMMERDOR
VANSONNEVANCK
KWPN
CARMEN25
1984
NIMMERDOR
TANJA4
KWPN
CASSANDRA67
1984
NIMMERDOR
PAOLA63
KWPN
CEMETA
1984
NIMMERDOR
WOZIETA
KWPN
CICEROLE2
1984
NIMMERDOR
JACOLIEN3
KWPN
CICREOLE
1984
NIMMERDOR
JACOLIEN2
KWPN
CINEA
1984
NIMMERDOR
WINEA
KWPN
CININI
1984
NIMMERDOR
NINI IV
DUTCH WARMBLOOD
CISKA9
1984
NIMMERDOR
OLANDA2
KWPN
CLEOPATRA68
1984
NIMMERDOR
VERONICA48
KWPN
COLETTE25
1984
NIMMERDOR
SHORAYA
KWPN
COLORADO16
1984
NIMMERDOR
TORETTA
KWPN
CONSUL18
1984
NIMMERDOR
-
DUTCH WARMBLOOD
CONSUL6
1984
NIMMERDOR
WALONIKI
DUTCH WARMBLOOD
CORINA64
1984
NIMMERDOR
WARDY
KWPN
CORNELIA22
1984
NIMMERDOR
WOTIK
KWPN
CORNILIA
1984
NIMMERDOR
WOTIK
WARMBLOOD
CYNODOR
1984
NIMMERDOR
JINOLA
KWPN
CYNTHIA8
1984
NIMMERDOR
SINDA
KWPN
DYNAMIEK
1984
NIMMERDOR
FLYING CLOUD18
KWPN
GOES WITHOUT SAYING
1984
NIMMERDOR
REMEMBER16
ANGLO EUROPEAN STUDBOOK
IRON SPRING CONSUL
1984
NIMMERDOR
WALONIKI
DUTCH WARMBLOOD
DAIMLER B
1985
NIMMERDOR
TORETTA
KWPN
DAIMLER2
1985
NIMMERDOR
TORETTA
KWPN
DANSER2
1985
NIMMERDOR
OLYMPIA126
KWPN
DAYDYNE
1985
NIMMERDOR
LEDYNE
DUTCH WARMBLOOD
DELINA3
1985
NIMMERDOR
ZELINA4
KWPN
DHELIA
1985
NIMMERDOR
SHORAYA
KWPN
DIADEEM
1985
NIMMERDOR
PASSE3
KWPN
DILVIA
1985
NIMMERDOR
SILVIA71
KWPN
DORAYA
1985
NIMMERDOR
SORAYA52
KWPN
DORIEN5
1985
NIMMERDOR
WENDELIN7
KWPN
DYNAMITE35
1985
NIMMERDOR
LISETTE38
KWPN
NIMMERLADY
1985
NIMMERDOR
LADY29
KWPN
ANNEWIES
1986
NIMMERDOR
NONJA2
DUTCH WARMBLOOD
ATOILE
1986
NIMMERDOR
UTOILE
KWPN
DENVER7
1986
NIMMERDOR
M HYAZINTHE
KWPN
EASY13
1986
NIMMERDOR
VIOLA23
EDELVROUW
1986
NIMMERDOR
PASSE3
KWPN
ELBERTON2
1986
NIMMERDOR
PATTY7
KWPN
ELEGANT18
1986
NIMMERDOR
TORANDA
KWPN
ELIANA9
1986
NIMMERDOR
SIANA4
KWPN
ELSBALIA
1986
NIMMERDOR
UTEBALIA
KWPN
ELSEBETTE
1986
NIMMERDOR
ODETTE106
KWPN
EMPEREUR3
1986
NIMMERDOR
ALLURE12
KWPN
ESTHER146
1986
NIMMERDOR
PATRICIA42
KWPN
EUROSTAR3
1986
NIMMERDOR
ASDUMESNIL
KWPN
EVELIEN17
1986
NIMMERDOR
WENDELIN7
KWPN
EVEREST6
1986
NIMMERDOR
AZIEMIEKA
KWPN
A stallion who stood at VDL stud, approved with SWB competed in international jumping with Dutch rider Wout-Jan van der Schans
FEMMENOR V
1987
NIMMERDOR
WANNY
KWPN
FENDELIN
1987
NIMMERDOR
WENDELIN2
DUTCH WARMBLOOD
FUROLA3
1987
NIMMERDOR
WUROLA
NIMROD B
1987
NIMMERDOR
WILDROS
KWPN
NIMROD18
1987
NIMMERDOR
WILDROS
KWPN
GANDOR F
1988
NIMMERDOR
ULAVSKA
KWPN
GARUSO
1988
NIMMERDOR
VARUSA
KWPN
GAVANTA
1988
NIMMERDOR
AVANTA4
KWPN
GEDONNA
1988
NIMMERDOR
ZEDONNA
DUTCH WARMBLOOD
GENTLEMAN V
1988
NIMMERDOR
MISS13
KWPN
GENTLEMAN20
1988
NIMMERDOR
MISS13
KWPN
GERALDINE33
1988
NIMMERDOR
NINA172
KWPN
GERDA64
1988
NIMMERDOR
VIOLA119
KWPN
GERMAINE7
1988
NIMMERDOR
ROMY7
KWPN
GINETTE SIJGJE
1988
NIMMERDOR
MIREILLE SIJGJE
DUTCH WARMBLOOD
GITTE227
1988
NIMMERDOR
ODETTE106
KWPN
GLENDALE3
1988
NIMMERDOR
SILJA3
DUTCH WARMBLOOD
Glendale was a stallion who get excellent marks at his stallion grading, with a good record in the dressage ring Glendale.
GODINE
1988
NIMMERDOR
NUDINE2
KWPN
GOLDENBRIDGE
1988
NIMMERDOR
ARMINDA4
KWPN
GOLDINE4
1988
NIMMERDOR
ANTJE Z
KWPN
GOLINDA5
1988
NIMMERDOR
COLINDA
KWPN
GONNEKE
1988
NIMMERDOR
CATHERINA9
KWPN
GLENWOOD SPRINGS
1988
NIMMERDOR
KWPN
Competed by Tim Stockdale, Glenwood Springs is a horse with a fantastic jumping record, winning many international competitions with the prefix Fresh Direct.
GOOD TIMES
1988
NIMMERDOR
ZIGEUNERIN2
KWPN
As a 3 year old Goodtimes won his stallion test and has gone on to become a fantastic modern sire of sport horses with many approved sons, as well as numerous horses competing internationally in showjumping and dressage, these include Audi Mr. Lopez, Lowanda van de Lowlands, Kluivert, VDL Kalusha Paljas, Tilders Gabanta, London Times, Lavendel, Kenwood and Hildon's Cacherel
GRANADA71
1988
NIMMERDOR
SHORAYA
DUTCH WARMBLOOD
GRE
1988
NIMMERDOR
PATRICIA42
KWPN
GRENDALE
1988
NIMMERDOR
SILJA3
DUTCH WARMBLOOD
GUBERLINA
1988
NIMMERDOR
ZASTAVA
KWPN
NANDOR FORTUNA2
1988
NIMMERDOR
ULAVSCA
KWPN
International showjumper Andor Fortuna competed by Sacha Dito winner of the bronze at European Championships for Young Riders and Juniors
NEUMOND2
1988
NIMMERDOR
CORIEN
KWPN
NIGHT AND DAY6
1988
NIMMERDOR
CALGARY4
KWPN
NIMMERDOR N
1988
NIMMERDOR
ANAMORKA
DUTCH WARMBLOOD
NORTON L
1988
NIMMERDOR
SARINA28
KWPN
HAERTBREAKER
1989
NIMMERDOR
BACAROLE2
KWPN
HAIFA10
1989
NIMMERDOR
SILJA3
KWPN
HAMILTON13
1989
NIMMERDOR
WORITE
KWPN
HAMLET18
1989
NIMMERDOR
DIRBALIA
KWPN
Hamlet is the sire of one of showjumping great Hickstead, jumped by Canadian Eric Lamaze winning gold and silver medals at the Olympics, in 2008 Hickstead was crowned the KWPN horse of the year. Hamlet himself competed internationally in the showjumping arena, with world cup competitions and grand prix`s.
HANDEL4
1989
NIMMERDOR
ZEBORA
KWPN
HANSJE4
1989
NIMMERDOR
SERMA
DUTCH WARMBLOOD
HAPPY DAY16
1989
NIMMERDOR
TAMARA126
SWEDISH WARMBLOOD
HARMINKA
1989
NIMMERDOR
ZYMINKA
KWPN
HAVANNA34
1989
NIMMERDOR
BANCA
ANGLO EUROPEAN STUDBOOK
HEARTBREAKER2
1989
NIMMERDOR
BACAROLE2
KWPN
Heartbreaker is one of Nimmerdors most successful horse as both in the showjumping ring as well as a breeding stallion. As a six year old he was 5th at the World Championship for young horses, he was then placed fourth as a seven year old. Heartbreaker began his grand prix competition in 1998 with an excellent record that included 4th in the world famous Aachen grand prix with Peter Geerink. Heartbreaker has sired many excellent horses including 10 approved sons as well as many international sport horses.
HELEEN3
1989
NIMMERDOR
-
KWPN
HERALDA3
1989
NIMMERDOR
VIOLA39
KWPN
HERCOS
1989
NIMMERDOR
ZANTANA12
KWPN
HERCULES18
1989
NIMMERDOR
NUDINE2
KWPN
HERNITA
1989
NIMMERDOR
SANITA9
KWPN
HETRICHTA
1989
NIMMERDOR
CETRICHTA
KWPN
HIGHLIGHT43
1989
NIMMERDOR
-
KWPN
HIGHLIGHT5
1989
NIMMERDOR
DERSINAA
KWPN
HILLE FOMIA
1989
NIMMERDOR
LILLE FOMIA
KWPN
HILLERTHAL
1989
NIMMERDOR
ELLERTHAL
KWPN
HIMMERDOR
1989
NIMMERDOR
ZUBY
KWPN
HINDE19
1989
NIMMERDOR
MARY15
KWPN
JAMES O
NIMMERDOR
KWPN
James O is an international sport horse, competed by American rider Sheila Burke, in 1995 James O was the winner of the IAN trophy.
HONORIFIQUE2
1989
NIMMERDOR
ZIA8
KWPN
HYACINTH17
1989
NIMMERDOR
BRUNHILDE5
KWPN
IELRITE
1989
NIMMERDOR
WORITE
KWPN
NIMDOR
1989
NIMMERDOR
VIOLETTA15
KWPN
IBALIA W
1990
NIMMERDOR
EBALIA W2
KWPN
IBALIA-W
1990
NIMMERDOR
EBALIA-W
KWPN
ICARA3
1990
NIMMERDOR
ANOESKACARA
KWPN
IDAHO10
1990
NIMMERDOR
ZOLINDA
KWPN
IDLE DICE5
1990
NIMMERDOR
CHANTAL40
KWPN
IDOLENTE
1990
NIMMERDOR
DOLENTE
KWPN
IEZETA
1990
NIMMERDOR
EZETA2
KWPN
IFANTA
1990
NIMMERDOR
BAVANTA
DUTCH WARMBLOOD
IFON
1990
NIMMERDOR
BIJOU48
DUTCH WARMBLOOD
IKAROMIA
1990
NIMMERDOR
KAROMIA
KWPN
ILENA4
1990
NIMMERDOR
ELENA17
KWPN
ILGADA
1990
NIMMERDOR
SORAYA30
KWPN
ILLUSIE
1990
NIMMERDOR
ENJOY4
DUTCH WARMBLOOD
ILONA6
1990
NIMMERDOR
DOLARIS D
KWPN
ILSELENSIO V
1990
NIMMERDOR
BEA26
IMKE3
1990
NIMMERDOR
BRUNHILDE5
DUTCH WARMBLOOD
IMMERDOR
1990
NIMMERDOR
ZARINA6
KWPN
INDIANA43
1990
NIMMERDOR
DOUBLE DUTCH8
KWPN
INELLA5
1990
NIMMERDOR
CELLA9
KWPN
INTELLECT4
1990
NIMMERDOR
PAOLA5
KWPN
IREGINA2
1990
NIMMERDOR
SEGINA
KWPN
IRENA16
1990
NIMMERDOR
ELTINA3
KWPN
IRIS107
1990
NIMMERDOR
SHORAYA
DUTCH WARMBLOOD
IRIS183
1990
NIMMERDOR
UTILLA
KWPN
IRISINAA
1990
NIMMERDOR
DAISINAA2
DUTCH WARMBLOOD
ISARINA
1990
NIMMERDOR
WARINA32
DUTCH WARMBLOOD
ISOTOOP
1990
NIMMERDOR
PASSE3
DANISH WARMBLOOD
IXWAYS
1990
NIMMERDOR
CABWAYS
KWPN
IZAROOS
1990
NIMMERDOR
WILDROOS
KWPN
KANADOR
1990
NIMMERDOR
ANITA35
DUTCH WARMBLOOD
NEWTIME
1990
NIMMERDOR
CLEOPATRA32
DANISH WARMBLOOD
NIMROY B
1990
NIMMERDOR
ANNEKE3
KWPN
NITENDO5
1990
NIMMERDOR
ARESA LADY
KWPN
NOW OR NEVER4
1990
NIMMERDOR
PROFEE
DUTCH WARMBLOOD
NUBERTUS R
1990
NIMMERDOR
CUBERTHA
DUTCH WARMBLOOD
ALTERMA
1991
NIMMERDOR
TERMA2
DUTCH WARMBLOOD
ILONA68
1991
NIMMERDOR
MISS13
KWPN
J LADY
1991
NIMMERDOR
GABRIELA9
DUTCH WARMBLOOD
JANDELIN
1991
NIMMERDOR
WENDELIN7
KWPN
JASHINE-RONA
1991
NIMMERDOR
ARONA5
KWPN
JAYWALKER2
1991
NIMMERDOR
VICTORIA47
KWPN
JEGRONA
1991
NIMMERDOR
GREBEKKA
KWPN
JELLE FOMIA
1991
NIMMERDOR
ELLE FOMIA
KWPN
JEREEDOM
1991
NIMMERDOR
FREEDOM29
DUTCH WARMBLOOD
JERONE
1991
NIMMERDOR
PERONE2
JERSINA
1991
NIMMERDOR
ERSINA II
KWPN
JERSINA HEECHHIEM
1991
NIMMERDOR
ERSINA II
DUTCH WARMBLOOD
JESCA
1991
NIMMERDOR
MORGENSTER3
KWPN
JETHRO10
1991
NIMMERDOR
WILTRUD2
KWPN
JIGEUNERIN
1991
NIMMERDOR
ZIGEUNERIN2
KWPN
JILLA3
1991
NIMMERDOR
UTILLA2
KWPN
JIRINA
1991
NIMMERDOR
VUBERLINA
KWPN
JOLANDA92
1991
NIMMERDOR
ELYSETTE
KWPN
JOLARIS
1991
NIMMERDOR
DOLARIS D
KWPN
JOLISA2
1991
NIMMERDOR
WIELISA
KWPN
JORDAAN
1991
NIMMERDOR
RELIE2
KWPN
JORINA5
1991
NIMMERDOR
WORINA2
KWPN
JOULANA IMOO
1991
NIMMERDOR
DARK -IMOO
KWPN
JOVINE2
1991
NIMMERDOR
BYOUX
KWPN
JOWIKI
1991
NIMMERDOR
WIKI4
KWPN
JOYCE30
1991
NIMMERDOR
WINDEKIND6
KWPN
JOZOROOS B
1991
NIMMERDOR
WILDROOS
KWPN
JR2
1991
NIMMERDOR
ESMARALDE
DUTCH WARMBLOOD
JUCHET
1991
NIMMERDOR
ZUCHET
JULANA IMOO2
1991
NIMMERDOR
DARK-IMOO
KWPN
JULANA-IMOO
1991
NIMMERDOR
DARK-IMOO
KWPN
JULIANE-MOO
1991
NIMMERDOR
ZENITHA8
KWPN
JURIUS
1991
NIMMERDOR
FURIANA5
DUTCH WARMBLOOD
JUWEEL5
1991
NIMMERDOR
PASSE3
KWPN
NINTENDO K
1991
NIMMERDOR
SILJA3
KWPN
AK KANSELIER
1992
NIMMERDOR
NOTARIS
KWPN
K ANUBERTH
1992
NIMMERDOR
G DANUBERTHA
KWPN
K ANUBERTH 48
1992
NIMMERDOR
GDANUBERTHA
KWPN
K ZOSTARA
1992
NIMMERDOR
ZOTARA
KWPN
KALIGULA B
1992
NIMMERDOR
CAPELLA B
KANDOR
1992
NIMMERDOR
GALANTA17
KWPN
KARANTA5
1992
NIMMERDOR
FURANTA
DUTCH WARMBLOOD
KARINA27
1992
NIMMERDOR
ENTERPRICE3
DUTCH WARMBLOOD
KARLOTTIE
1992
NIMMERDOR
PORTA6
DUTCH WARMBLOOD
KARMETTE
1992
NIMMERDOR
CHARMETTE4
KWPN
KAROLINA38
1992
NIMMERDOR
GAWODA
KASSANDRA72
1992
NIMMERDOR
GRAVITA4
KWPN
KATINKA44
1992
NIMMERDOR
BRITA8
KWPN
KATRINA28
1992
NIMMERDOR
PETERNELLA
KEERINA
1992
NIMMERDOR
FEERINA
KWPN
KELLE FOMIA
1992
NIMMERDOR
ELLE FOMIA
KWPN
KENETRA
1992
NIMMERDOR
WENETRA
KWPN
KERROLAIN
1992
NIMMERDOR
DORENE3
KWPN
KIMBERLEY17
1992
NIMMERDOR
UTAH13
KWPN
KIMMERDOR
1992
NIMMERDOR
BODILE
DUTCH WARMBLOOD
KIRSINAA
1992
NIMMERDOR
WILHELMINA10
KWPN
KITTIE11
1992
NIMMERDOR
GITTIE HEECHHIEM
DUTCH WARMBLOOD
KOGRUSA
1992
NIMMERDOR
CARUSA3
KWPN
KRISTALINDA
1992
NIMMERDOR
COLINDA9
KWPN
KULAVSCA FORTUNA
1992
NIMMERDOR
ULAVSCA
KWPN
P KANELZA
1992
NIMMERDOR
ENELZA
BELGIAN WARMBLOOD
JURA VAN ST MAARTEN
1993
NIMMERDOR
LANDLADY20
BELGIUM SPORT HORSE
JURA VAN STMAARTEN
1993
NIMMERDOR
LANDLADY6
BELGIUM SPORT HORSE
LADIESDREAM
1993
NIMMERDOR
FURIANA5
KWPN
LADONCA2
1993
NIMMERDOR
BEAUTY156
KWPN
LADY LIKE12
1993
NIMMERDOR
VUURPIJL
KWPN
LADY-UTOPIA
1993
NIMMERDOR
HALLA UTOPIA
KWPN
LALINDA3
1993
NIMMERDOR
FILINDA2
KWPN
LAMIA11
1993
NIMMERDOR
VICTORIA47
KWPN
LARIANT
1993
NIMMERDOR
ARIANTE
KWPN
LARISA2
1993
NIMMERDOR
-
DUTCH WARMBLOOD
LAVADOR
1993
NIMMERDOR
FEERINA
ANGLO EUROPEAN STUDBOOK
LAVITA11
1993
NIMMERDOR
GRAVITA4
KWPN
LAZULI5
1993
NIMMERDOR
ELOTTIE W
KWPN
LENNEKE
1993
NIMMERDOR
ZENNEKE
KWPN
LEOPOLD20
1993
NIMMERDOR
FIORELLA15
KWPN
LERSINAA
1993
NIMMERDOR
DERSINAA
DUTCH WARMBLOOD
LIBERTY D
1993
NIMMERDOR
PATROUSCHKA
DUTCH WARMBLOOD
LIDIN
1993
NIMMERDOR
CILIA7
KWPN
LINDOR4
1993
NIMMERDOR
GLENDA23
KWPN
LISOLDE
1993
NIMMERDOR
HISOLDE
KWPN
LOTTIE17
1993
NIMMERDOR
GITTIE HEECHHIEM
DUTCH WARMBLOOD
LOTTO
1993
NIMMERDOR
OLOUSA
KWPN
LOULOU11
1993
NIMMERDOR
URA6
KWPN
LUPINE
1993
NIMMERDOR
INKA29
KWPN
LUPINE18
1993
NIMMERDOR
-
KWPN
NO LIMIT2
1993
NIMMERDOR
HINULA
WESTPHALIAN
NOBEL15
1993
NIMMERDOR
JOSIANE
KWPN
UPTONS NIMERA
1993
NIMMERDOR
-
OLDENBURG
LOGORITE
1994
NIMMERDOR
GORITE
KWPN
MA BELLE AMIE S
1994
NIMMERDOR
HURRICANE17
KWPN
MA BELLE AMIES
1994
NIMMERDOR
HURRICANE17
KWPN
MAFIA4
1994
NIMMERDOR
DEOLIEN
KWPN
MAJESTEIT3
1994
NIMMERDOR
PASSE3
DUTCH WARMBLOOD
MALMEDY3
1994
NIMMERDOR
GITTIE HEECHHIEM
DUTCH WARMBLOOD
MARAVOLA
1994
NIMMERDOR
COLANDA4
KWPN
MAXIM W
1994
NIMMERDOR
IJOKLAHOMA W
KWPN
MAYPRICE
1994
NIMMERDOR
ENTERPRICE3
DUTCH WARMBLOOD
MELODY122
1994
NIMMERDOR
HESTER35
KWPN
MELOMA
1994
NIMMERDOR
ZELOMA
KWPN
MERA B
1994
NIMMERDOR
HERA II5
KWPN
MIURA3
1994
NIMMERDOR
DORISDAY
KWPN
MORKUS
1994
NIMMERDOR
WORKA
DUTCH WARMBLOOD
NIMMEROT
1994
NIMMERDOR
-
OLDENBURG
NON PLUS ULTRA5
1994
NIMMERDOR
CREMONA22
KWPN
HOW MANY NOUVOLIEU
1995
NIMMERDOR
LADY DE LA HART
NARUSA3
1995
NIMMERDOR
CARUSA3
KWPN
NIMROD28
1995
NIMMERDOR
GITTIE HEECHHIEM
DUTCH WARMBLOOD
NISOLDE
1995
NIMMERDOR
ISOLDE49
DUTCH WARMBLOOD
NOBERLINA4
1995
NIMMERDOR
GOBERLINA
KWPN
NORDIKS
1995
NIMMERDOR
ZONELLA
KWPN
NOUSCHKA
1995
NIMMERDOR
FRANCAISE6
DUTCH WARMBLOOD
NEWTON3
1996
NIMMERDOR
CIANCE
HOLSTEINER
OMARE B W
1996
NIMMERDOR
IDLEVIZA
DUTCH WARMBLOOD
ORLANDO W
1996
NIMMERDOR
DONNA MAIL
SWEDISH WARMBLOOD
OTAMORA
1996
NIMMERDOR
TAMORA3
KWPN
RATINA27
1996
NIMMERDOR
ZAUBERLADY
DUTCH WARMBLOOD
VDL DARK KNIGHT
1996
NIMMERDOR
ARESA LADY
KWPN
ILIDOL
1997
NIMMERDOR
CALIDA13
HOLSTEINER
JIMMERDOR DE FLORYS
1997
NIMMERDOR
NICKIE II
RIDING PONY
JULISCHKA8
1997
NIMMERDOR
ZENIA III2
HOLSTEINER
PAMINA VDL
1997
NIMMERDOR
JAMINA2
KWPN
PHONIA
1997
NIMMERDOR
WONIA2
DUTCH WARMBLOOD
CHACKMARO Z
1998
NIMMERDOR
-
ZANGERSHEIDE
NUBERTUS
1998
NIMMERDOR
CUBERTHA
RAMINA6
1998
NIMMERDOR
JAMINA2
KWPN
RATINA VDL
1998
NIMMERDOR
ZAUBERLADY
DUTCH WARMBLOOD
SOMETHING SPECIAL AMADEUS
1999
NIMMERDOR
ARESA LADY
DUTCH WARMBLOOD
NEKTON
2000
NIMMERDOR
LEGENDE IX
HOLSTEINER
Nekton is a stallion with an excellent record as a showjumper, ridden by Lars Bak Andersen, Nekton qualified for the National Championships as a 7 - and 8-year old, before competing in S classes and winning classes internationally. Nekton has also gone on to sire many excellent sport horses.
TEMPERAMENT5
2000
NIMMERDOR
-
KWPN
TYRA UTOPIA
2000
NIMMERDOR
MANHATTAN6
KWPN
CEASER3
2001
NIMMERDOR
NAOMI14
OLDENBURG
CISKA B
-
NIMMERDOR
OLANDA2
KWPN
CLEMMERDOR
~1985
NIMMERDOR
TONIA23
DUTCH WARMBLOOD
ALONIE
NIMMERDOR
MOLGA2
KWPN
AMARUSA H
NIMMERDOR
-
KWPN
AMETHYST24
NIMMERDOR
PAEREL
ANDANTE17
NIMMERDOR
SONATINE3
KWPN
ANNETTE75
NIMMERDOR
PASJA29
DUTCH WARMBLOOD
ARITE
NIMMERDOR
ORITE
KWPN
ARNITA2
NIMMERDOR
TORNITA
KWPN
ATHENE12
NIMMERDOR
SILJA3
DUTCH WARMBLOOD
AURORA36
NIMMERDOR
MARTUNA
KWPN
AURORA85
NIMMERDOR
HOTICA
WARMBLOOD
BATINKA2
NIMMERDOR
PATINKA
KWPN
BELINDA65
NIMMERDOR
NATASJA8
KWPN
BERMA3
NIMMERDOR
TERMA5
KWPN
BOLERO29
NIMMERDOR
OLANDA2
KWPN
BONETTE20
NIMMERDOR
PALETTE42
KWPN
CALBONNY
NIMMERDOR
ALBONNIE Z
KWPN
CAMPARI16
NIMMERDOR
OCTAVIA12
KWPN
CARABINE9
NIMMERDOR
CARONADE
WARMBLOOD
CELEVA
NIMMERDOR
OLEVA3
DUTCH WARMBLOOD
CHANTAL10
NIMMERDOR
NIENKE H
KWPN
CODEILA
NIMMERDOR
REMONA14
CONFICENCE
NIMMERDOR
RIANTE
KWPN
CONFIDENCE35
NIMMERDOR
RIANTE
DUTCH WARMBLOOD
CORIENA3
NIMMERDOR
VOFIENA
WARMBLOOD
CORNETTA7
NIMMERDOR
ULRIKE5
KWPN
CORONEL9
NIMMERDOR
WALA
DAGMARA13
NIMMERDOR
-
DANZELO Z
DARCO3
NIMMERDOR
DARUSA
NIMMERDOR
SARUSA
DENVER27
NIMMERDOR
M HYAZINTHE
HOLSTEINER
DESTA2
NIMMERDOR
ZARONAS2
KWPN
DESTRA
NIMMERDOR
ZARONAS
KWPN
DREAMSTAR
NIMMERDOR
NUMMER ON
DULOUSA
NIMMERDOR
-
DYOLGA
NIMMERDOR
MOLGA
ELECTRA37
NIMMERDOR
-
KWPN
EMINKA2
NIMMERDOR
ZYMINKA
KWPN
ERINA6
NIMMERDOR
ZARINA17
ERISKA
NIMMERDOR
MISS13
DUTCH WARMBLOOD
ERISKA2
NIMMERDOR
MISS13
DUTCH WARMBLOOD
ESTER32
NIMMERDOR
P MINERVA
ESTER72
NIMMERDOR
P MINERVA
KISBER FELVER
ESTHER28
NIMMERDOR
PATRICIA42
DUTCH WARMBLOOD
EVITA B2
NIMMERDOR
ROMY28
ZANGERSHEIDE
EVITA120
NIMMERDOR
ATITTY
KWPN
FANTASIA7
NIMMERDOR
PATTY7
KWPN
FERRINGTON
NIMMERDOR
-
FIRSTBLACK
NIMMERDOR
WUPINA
DUTCH WARMBLOOD
FIRSTLADY4
NIMMERDOR
SILJA3
KWPN
FLEUR157
NIMMERDOR
SANDRA249
KWPN
FOREVER8
NIMMERDOR
WATJA
KWPN
FUBEA
NIMMERDOR
PATRICIA156
WARMBLOOD
GARUSA
NIMMERDOR
CARUSA3
GERMA16
NIMMERDOR
-
GETTINA
NIMMERDOR
VIP18
GIBOTTIE
NIMMERDOR
UNIBOTTIE
KWPN
GRACIA72
NIMMERDOR
ORCHIDEE7
DUTCH WARMBLOOD
HANSJE P
NIMMERDOR
SERMA
KWPN
HAPPYHELENA
NIMMERDOR
ANGELIQUE56
HARMONY18
NIMMERDOR
WELMODE
DUTCH WARMBLOOD
HASIJGJE3
NIMMERDOR
DIRANA
DUTCH WARMBLOOD
HAVANA18
NIMMERDOR
-
DUTCH WARMBLOOD
HERARDA
NIMMERDOR
VIOLA39
HERMA5
NIMMERDOR
VIOLA18
WARMBLOOD
HIDORA2
NIMMERDOR
PAOLA41
HILITHYA
NIMMERDOR
BILITHYA
IDLE-DICE
NIMMERDOR
CHANTAL68
ILAVSCA F
NIMMERDOR
ULAVSCA
KWPN
ILLUSION44
NIMMERDOR
ZARANTA
KWPN
ILONA79
NIMMERDOR
-
INELLLA
NIMMERDOR
CELLA9
KWPN
IRUSA2
NIMMERDOR
CARUSA3
KWPN
ISADORA32
NIMMERDOR
CHANEL II
IVELINA2
NIMMERDOR
EVELINA18
KWPN
IVOLOUSA
NIMMERDOR
COCONUT5
KWPN
JAMANTHA
NIMMERDOR
-
DUTCH WARMBLOOD
JELZERINA
NIMMERDOR
RENATE29
KWPN
JENNEKE2
NIMMERDOR
-
JEOPARDY9
NIMMERDOR
-
KWPN
JOKERLA
NIMMERDOR
URLIA
JOLIE24
NIMMERDOR
VASA10
HOLSTEINER
JONKVROUW6
NIMMERDOR
OLYMPIA36
JONKVROUW9
NIMMERDOR
BRITA8
KWPN
JOOSTJE2
NIMMERDOR
SARINA96
KWPN
JOYFUL LADY3
NIMMERDOR
ARESA LADY
KWPN
JULIET115
NIMMERDOR
-
JVANTA
NIMMERDOR
-
DUTCH WARMBLOOD
KAROLY M
NIMMERDOR
VICTORIA47
DUTCH WARMBLOOD
KERIANTA
NIMMERDOR
VALANTA2
KWPN
KILANA
NIMMERDOR
EMMYLOE-IMOO
DUTCH WARMBLOOD
KIM RIKE
NIMMERDOR
ELRIKE
KIM RIKE B
NIMMERDOR
ELRIKE
DUTCH WARMBLOOD
LABIOLA
NIMMERDOR
FABIOLA117
KWPN
LARALEVA
NIMMERDOR
FRALEVA
KWPN
LEANDRA5
NIMMERDOR
FENNEKE
KWPN
LEANDRO8
NIMMERDOR
WIPPE
DUTCH WARMBLOOD
LERINA3
NIMMERDOR
DERINA5
KWPN
LIDELIA
NIMMERDOR
FIDELIA20
KWPN
LINDIN
NIMMERDOR
CILIA7
DUTCH WARMBLOOD
LINEA14
NIMMERDOR
ANEA2
DUTCH WARMBLOOD
LIRASINAA
NIMMERDOR
DORSINAA
DUTCH WARMBLOOD
LORNADORA
NIMMERDOR
LORIE5
WARMBLOOD
LUPINE II M
NIMMERDOR
INKA29
DUTCH WARMBLOOD
MABICHE
NIMMERDOR
-
DUTCH WARMBLOOD
MADONNA152
NIMMERDOR
IDYLLE36
MADONNA170
NIMMERDOR
-
KWPN
MADONNA172
NIMMERDOR
IDYLLA13
KWPN
MANITOBA13
NIMMERDOR
FREEDOM29
HANOVERIAN
MIANCE RV
NIMMERDOR
GIANCE
KWPN
MISTADOR PR
-
NIMMERDOR
DUTCH WARMBLOOD
MOLANDA2
NIMMERDOR
JOLANDA8
KWPN
MONALISSA2
NIMMERDOR
HEIDI183
DUTCH WARMBLOOD
NECKTON
NIMMERDOR
LEGENDE27
NEWDERMA-N
NIMMERDOR
INGRID25
KWPN
NIBALIA
NIMMERDOR
FYBALIA
KWPN
NIKITA123
NIMMERDOR
PATTY7
KWPN
NIMBLE AND QUICK
NIMMERDOR
ONE EYED LENA
WARMBLOOD
NIMMERDOR MARE
NIMMERDOR
-
KWPN
NIMMERDOR-MARE
NIMMERDOR
WELLINGTON-MARE
NIMRODB
NIMMERDOR
WILDROS
KWPN
OBERIXT2
NIMMERDOR
RIXT2
DUTCH WARMBLOOD
OBLIGEANT II
NIMMERDOR
DERINA5
KWPN
OLADY5
NIMMERDOR
ZAUBERLADY
HOLSTEINER
ORSINA24
NIMMERDOR
ZARINA24
KWPN
PHONIA VS
NIMMERDOR
WONIA2
KWPN
PROUDY BW
NIMMERDOR
ETIENNE17
QUINTA Z
NIMMERDOR
CONTESS J
SHAMANTA
NIMMERDOR
MISS13
DUTCH WARMBLOOD
SHARIF6
NIMMERDOR
WORITE
SIGRID6
NIMMERDOR
ASTRID110
DUTCH WARMBLOOD
SORAYA126
NIMMERDOR
CLEOPATRA145
SPONTAAN
NIMMERDOR
-
ANGLO EUROPEAN STUDBOOK
TAMARA13
NIMMERDOR
OMARA
DUTCH WARMBLOOD
TAROSJA
NIMMERDOR
OSTARA7
THORINA3
NIMMERDOR
THADORNA
KWPN
TOCARLA
NIMMERDOR
OECARLA
KWPN
TOLIA
NIMMERDOR
NIKE19
DUTCH WARMBLOOD
TYKARLA
NIMMERDOR
OBARLA
DUTCH WARMBLOOD
UNIVER II
NIMMERDOR
HELLA2
DUTCH WARMBLOOD
URANIA33
NIMMERDOR
ORFA2
DUTCH WARMBLOOD
V NIMMERDOR
NIMMERDOR
-
DUTCH WARMBLOOD
VICTORIA V2
NIMMERDOR
RIENEKE
VICTORIA113
NIMMERDOR
RIENEKE3
DUTCH WARMBLOOD
VICTORIA191
NIMMERDOR
RIENEKE3
WARMBLOOD
VISCONSIN2
NIMMERDOR
OLANDA2
KWPN
WENDURGANE
NIMMERDOR
RURGANA
WENDY272
NIMMERDOR
OENONE5
KWPN
WENDY52
NIMMERDOR
METIS4
WILDINA
NIMMERDOR
RELANSE
PERCHERON
WOKINA
NIMMERDOR
EKINA2
KWPN
WULITA
NIMMERDOR
JULITA7
KWPN
ZADOCK
NIMMERDOR
-
ZANDRES
NIMMERDOR
UPPERTEN4
DUTCH WARMBLOOD
ZAZA49
NIMMERDOR
PATRICIA
DUTCH WARMBLOOD
ZIONTINE
NIMMERDOR
NETTIE23
ZODAK
NIMMERDOR
SARAYA
KWPN