Show Jumping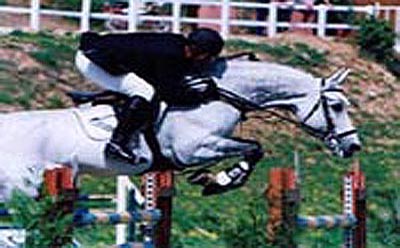 High Offley Stud is a leading show jumping yard that has been home to many outstanding showjumpers over the years. With our excellent string of horses we have competed at some of the world's premier showjumping events.

Showjumping Horses - With showjumpers from novice through to international we have a proved record of breeding and producing showjumping horses. International horses who have represented High Offley Stud in the past include, Arturo 8 an international breeding stallion with an impressive record in the show jumping arena, another one of the High Offley team was Niagra B who was produced from a 5 year old, competed at HOYS in the Newcomers, Foxhunter, Grade C, 6 year old and 7 year old finals, she also represented the United Kingdom at the young horse breeding championships as a 6 year old and 7 year old, before going on to compete internationally in grand prix competitions. One of our most successful jumping horses is Barry Bug, at 16hh he did not look like a traditional showjumper, but with numerous riders that included, John Whitaker, Geoff Glazzard, Paul Barker, Geoff Billington and James Billington Barry Bug tens of thousands of pounds his victories included a grand prix in Portugal, three wins at the Horse of The Year Show in international events as well as other countless open classes on the national and international jumping circuit.

Breeding Showjumping Horses - Here at High Offley Stud we breed from proven broodmares, with excellent bloodlines and competition records. Bloodlines represented in our breeding program includes, Athlet Z, Carthago Z, Zanzibar, Zeus, It's the Business, Holland, Capital I, Lord, Calvados, Alme, Uriel, Sultan, Kojak, Animo, Rivage du Poncel and many, many others. Our broodmares have competed in the jumping arena before they begin their career breeding, results include wins at grand prix levels, winner of the Newcomers final at HOYS, mares who have competed at the world breeding championships. So if you are looking for a foal or young horse to produce for the showjumping ring, contact us today and come a visit us and see what we may have available.

Competition Livery
High Offley Stud have produced horse foal up to international competitions. If you are looking for professional help producing your horse the why not contact us and see how may help from helping professionally break your horse for you to compete as well as offering the complete solution from transporting your horse to shows to your horse being competed with a professional rider.

Showjumping Horses For Sale
We have sold horses that are competing at the highest levels of the sport, with High Offley horses competing around Europe and the USA, showjumping horses sold include High Offley Arturo`s Catch who jumps grand prix classes and qualified for the international classes at the horse of the year show. Other horses sold include High Offley Fleur, who jumped 1.45m and AIT`s in the UK with showjumper Chad Fellows before being exported to the USA.