-
Stableexpress
-
Horse News
-
Arturo 9 Graded with Anglo European Studbook (AES)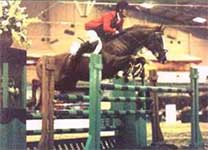 The long trip from High Offley Stud to addington proved worth wile with Arturo 9 passing his grading with the Anglo European Studbook(AES). Arturo 9 gave an excebition of show jumping riden by Paul Sims he was one of the only a few stallions to jump cleasr over the technical course built by the AES Judges.
Arturo 9 who is already graded with the British sport horse assciation was one of only a handfull of stallion who achieved licensed status with the Anglo European Studbook (AES) from the 70+ field of hopefull young stallions. The Anglo European Stud Book judges commented on his fantastic show jumping technique, Geoff Glazzard comented how alike Arturo 9 is to his sire Arturo 8 a former ride of Geoff Glazzard and highly succesfull breeding stallion for High Offley Stud.
Arturo 9 will now have a short break before continuing his show jumping carrear where he has already got all his double clears British Novice and qualified for the Blue Chip Finals next year. Arturo 9 is an exciting stallion for the future and will prove to be a great asset to British sport horse breeding for many years to come.
Anglo European Stud Book | Arturo 9
Related Articles
James Billington to ride Barry Bug
Geoff Billington Olympic Showjumper now rides for High Offley Stud, his son James Billington will also be riding in the young riders competitions on our horses Barry Bug and Sunnoras Sun.

Geoff will be riding Niagra B, Arturo 8 and our exciting new Stallion FrouFrou D'anchin. Frou Frou will be competing for the first time in the UK his first show will be at the Southview Premier Show.
Youngster qualifies for dressage at Badminton
Chelsea, a five year old out of our championship winning mare Miss Daisy has qualified for the dressage finals at Badminton. Well done Caroline.
Young Horse Training
High Offley Stud is a friendly family run business set in Staffordshire, West Midlands. Having many years experience in the Equestrian sector we strive to meet the expectations and needs of clients should that be by way of training, competition livery, horses for sale, horseboxes for sale or short term livery. You can be assured that your equine will be treated professionally and sympathetically during its time with us.