-
Stableexpress
-
Horse News
-
Arturo 9 Graded with Anglo European Studbook (AES)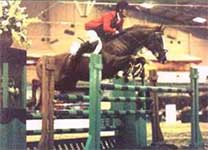 The long trip from High Offley Stud to addington proved worth wile with Arturo 9 passing his grading with the Anglo European Studbook(AES). Arturo 9 gave an excebition of show jumping riden by Paul Sims he was one of the only a few stallions to jump cleasr over the technical course built by the AES Judges.
Arturo 9 who is already graded with the British sport horse assciation was one of only a handfull of stallion who achieved licensed status with the Anglo European Studbook (AES) from the 70+ field of hopefull young stallions. The Anglo European Stud Book judges commented on his fantastic show jumping technique, Geoff Glazzard comented how alike Arturo 9 is to his sire Arturo 8 a former ride of Geoff Glazzard and highly succesfull breeding stallion for High Offley Stud.
Arturo 9 will now have a short break before continuing his show jumping carrear where he has already got all his double clears British Novice and qualified for the Blue Chip Finals next year. Arturo 9 is an exciting stallion for the future and will prove to be a great asset to British sport horse breeding for many years to come.
Anglo European Stud Book | Arturo 9
Related Articles
First foals are born by Crocodile Dundy Z.
Crocodile Dundy is our exciting young Stallion By CarthagoZ out of a Ramiro Z Mare, fabulous breeding. The foals are stunning and have lots of presence and quality. La Bohemme having a stunning grey filly and International mare Catch as Catch Can having a
High Offley Stud purchase new young international
High Offley Stud welcome Froufrou D'anchin this young French Stallion has competed internationally. Froufrou D'anchin combines some of Frances finest showjumping blood lines including Rivage Du Poncel, Uriel and Grand Veneur. Geoff Glazzard will take Froufrou D'anchin on the Spanish Sunshine tour were he will compete in the international classes with Barry Bug, and Arturo.

Froufrou D'anchin is by the Uriel stal
New Foal Born At High Offley Tipsy, Frou Frou D`anchin x Furioso Z
The High Offley Stud breeding program has produced another exciting foal for the future, High Offley Tipsy combines some of the finest bloodlines from europe including Frou Frou D`anchin, Rivage Du Poncel, Furioso Z, Furioso II, Grand Veneur and Uriel. High Offley Tipsy is by our own selle francais stallion Frou Frou D'anchin.

Frou Frou D`anchin is a very handsome 16.3 Selle Francais Bay Stallion with presence and char