-
Stableexpress
-
Horse News
-
Arturo 9 jumps double clear with Robert Bevis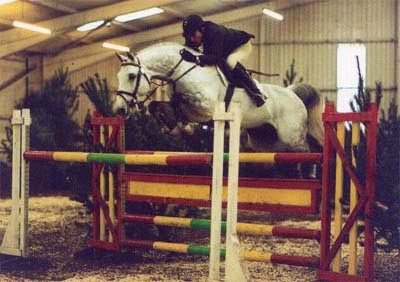 Over the weekend High Offley Studs promising young stallion Arturo 9 was taken to the kingswood equestrian center where he was met by Robert Bevis to give him a trial run. Robert Bevis & Arturo 9 gave an exhibition of showjumping to jump a double clear round in the Newcomers competition. Robert Bevis is a leading british showjumping rider who has competed at the highest level, Arturo 9 will now be sent to Robert Bevis's yard where he will be put through his passes.
Arturo 9 is a home bred 5 year old stallion by Arturo 8 out of La Bohem who was a successful international showjumper as well as being dam to 2 approved stallions. Arturo 9 is a loveable character and a born athlete he is only 5 year old but is already jumping newcomers with ease, he first youngstock all possess his fantastic good looks as well as his kind temperament.
Equestrian Clearance - Clothes Sizes
|
Horse Insurance
|
Accident Insurance Horse
|
Equestrian Insurance
|
Equine Insurance
|
Leisure Horse Insurance
|
English Horse Riders
Related Articles
First foals are born by Crocodile Dundy Z.
Crocodile Dundy is our exciting young Stallion By CarthagoZ out of a Ramiro Z Mare, fabulous breeding. The foals are stunning and have lots of presence and quality. La Bohemme having a stunning grey filly and International mare Catch as Catch Can having a
Sport Horse For Sale - Arturo`s Catch
Arturo Mist is a quality young horse who would be an ideal horse for either a novice rider or someone who is more competitive and wish to challenge for rosettes, she has a wonderful kind temperament as well as having a nice jump & excellent paces she would excel in any equestrian sphere show jumping, dressage or eventing she is a real all rounder.
Congratulation Bruce Menzies and Sultan
Congratulations to Bruce Menzies and Old Lodge on their Foxhunter win with Sultan. High Offley Stud has been home off many of old lodge horses over the year and Sultan was based at High Offley Stud from 2 - 4 and was actually broken in by our own Amanda Howell . The super talented Sultan has had a huge amount of success since we dropped him off at Bruce Menzies yard cumulating in the foxhunter final at the horse of the