-
Stableexpress
-
Horse News
-
Björn Nagel starts again under German flag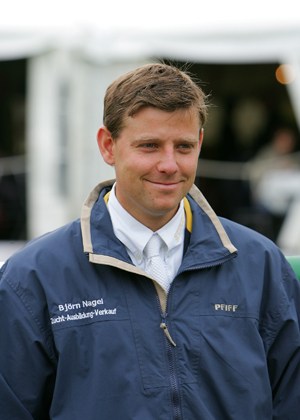 Björn Nagel start jumping again under the German nationality. The past six years he ridden for the Ukrainian Alexander Onyschenko, but he decided to revert back to Germany.
Björn Nagel started under the Ukrainian nationality during inter alia, European Championships, World Championships and Olympic Games. Since this week, however, he again operates under the German flag. "I have very interesting years behind the team of Alexander Onyschenko. We are not breaking up because of a fight, but I got some new goals and other priorities, "says Nagel.
Nail can immediately start for Germany in international competitions. By the FEI regulations it is not possible for the next two years to take part in World Championships, competitions or German country championships.
Related Articles
Björn Nagel starts again under German flag
Björn Nagel start jumping again under the German nationality. The past six years he ridden for the Ukrainian Alexander Onyschenko, but he decided to revert back to Germany.

Björn Nagel started under the Ukrainian nationality during inter alia, European Championships, World Championships and Olympic Games. Since this week, however, he again operates under the German flag. "I have very interesting years behind the team of Alexander Onyschenko. We are not breaking up because of a fight, but I got some new goals and
International Stairway Kicks Off At Devon Show This Week
The premier county show International Stairway League Series commences this week with the first of the nine classes taking place at Devon County Show on Friday 20th May.A series of top level showjumping competitions, the International Stairway attracts some of the countries best horses and riders; allowing them to compete across courses similar to those encountered on 4* Nations Cup competitions.

Seen very mu
Barcelona 1992: David Broome`s Heavy Fall Puts Place In Doubt
DAVID Broome's participation in next week's show jumping contests is now in doubt because of injury. The 52-year-old, who was aiming to ride in his sixth Olympics, hurt his back in a fall at Royan in France last weekend. The original plan, which was to bring the riders to Spain by minibus yesterday, had to be abandoned. They will now fly to Barcelona this morning and Broome will be given a full medical check-up on arrival
Robert Smith - Ribbons All Round In Finland
A stylish clear round was sufficient for Robert to come third in Friday's preliminary World Cup Qualifier event in Helsinki on Raging Bull Vangelis S, adding another 4000 euros to the stallion's prize winnings.

Saturday proved successful too when Talan jumped a double clear round in the Helsinki Grand Prix presented by Porsche to finish 5th in the honours. Not to be out done, Baldourado capped the day off wit