-
Stableexpress
-
Horse News
-
British Olympic Dressage Nominated Entry List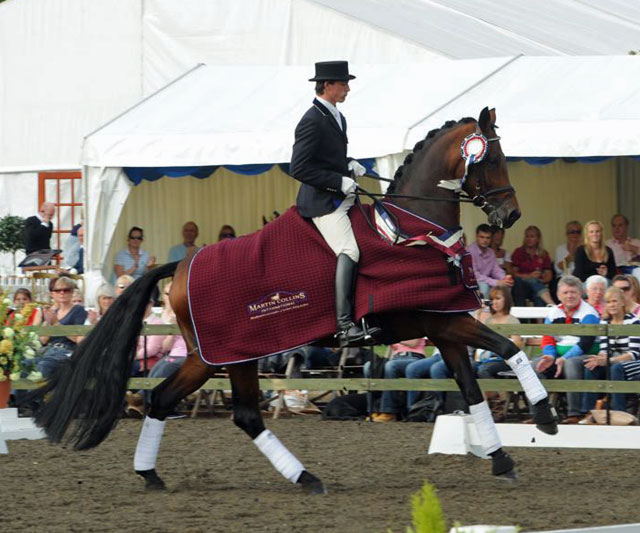 The British Equestrian Federation has released the names of the riders and horses they have submitted to the FEI as the Nominated Entry List for the London 2012 Olympic Games. Only horses and riders listed on the Nominated Entries can be put forward to the British Olympic Association (BOA) for selection. Great Britain is eligible to select four riders for Dressage, three team members and one individual rider. The final selection for Dressage will be made week commencing 2 July.
Nominated entries for Dressage are as follows:
Henriette Andersen with Mrs Paula Potter's Louis D'Or
Laura Bechtolsheimer with Dr Wilfried & Mrs Ursula Bechtolsheimer's and her own Mistral Hojris
Laura Bechtolsheimer with Dr Wilfried & Mrs Ursula Bechtolsheimer's Andretti H
Hannah Biggs with her own Weltzin
Nikki Crisp with her own Pasoa
Richard Davison with the Countess of Derby's (Hiscox) Artemis
Charlotte Dujardin with Mr Carl Hester & Mrs Roly Luard's Valegro
Michael Eilberg with Mrs Julie Deverill's Half Moon Delphi
Michael Eilberg with Mr Ferdi Eilberg's Marakov
Emile Faurie with Ms Joanne Vaughan's Elmegardens Marquis
Judy Harvey with Mr Richard Heley's Fitzcerraldo
Carl Hester with Mrs Sasha Stewart's and his own Uthopia
Emma Hindle with the Brookhouse Stud Ltd's Diamond Hit
Gareth Hughes with Ms Jane Brewin's DV Stenkjers Nadonna
Further information on final selection will be communicated as soon as it is available.
Related Articles
Adelinde Cornelissen and Jerich Parzival Win Reem Ara FEI World Cup Dressage Final 2011/2012 - Freestyle
Adelinde Cornelissen and Jerich Parzival, the defending champions from The Netherlands, clinched the Reem Acra FEI World Cup™ Dressage title for the second consecutive season when topping the Freestyle on home turf in 's-Hertogenbosch (NED) today. But Germany's Helen Langehanenberg really pressurised the dominant Dutch duo with a spectacular performance that left them a close second, while Italy's Valentina Truppa was a h
Dressage Lessons - The Seat
The position of the shoulders, arms, back, pelvis, seat, and legs have all been discussed. It is now time to see how can they all be used together to bring out the best of your horse.
Shoulders Behind The Perpendicular
The secure basic position has been explained with a perpendicular pelvis with a 0° tilt. There are occasions when the pelvis, back, and shoulders can actually tilt appr
FEI Announces Dressage Ground Juries For London 2012 And The Reem Acra FEI World Cup Final
The Ground Juries for Dressage at the London 2012 Olympic and Paralympic Games and the Reem Acra FEI World Cup™ Final 2012 have been announced following blind draws at the FEI's headquarters in Lausanne (SUI) today (23 September). Leif Törnblad (DEN), Maribel Alonso (MEX), Jean-Michel Roudier (FRA), Gary Rockwell (USA), Wim Ernes (NED) and Evi Eisenhardt (GER) will form the Dressage Ground Jury at the London 2012 Olympic