-
Stableexpress
-
Horse News
-
British Olympic Dressage Nominated Entry List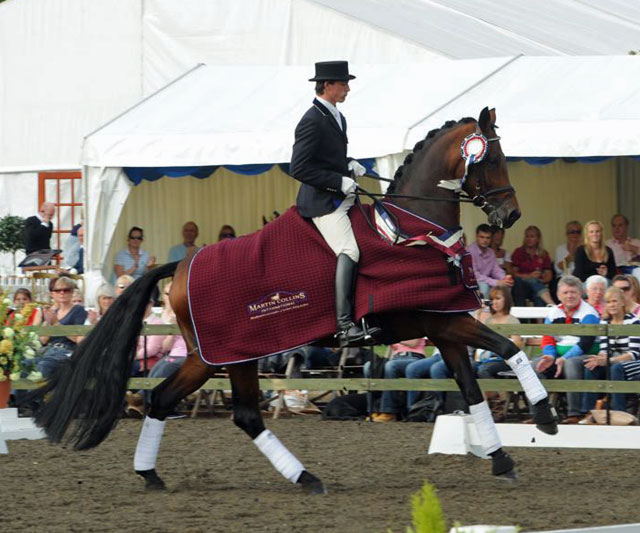 The British Equestrian Federation has released the names of the riders and horses they have submitted to the FEI as the Nominated Entry List for the London 2012 Olympic Games. Only horses and riders listed on the Nominated Entries can be put forward to the British Olympic Association (BOA) for selection. Great Britain is eligible to select four riders for Dressage, three team members and one individual rider. The final selection for Dressage will be made week commencing 2 July.
Nominated entries for Dressage are as follows:
Henriette Andersen with Mrs Paula Potter's Louis D'Or
Laura Bechtolsheimer with Dr Wilfried & Mrs Ursula Bechtolsheimer's and her own Mistral Hojris
Laura Bechtolsheimer with Dr Wilfried & Mrs Ursula Bechtolsheimer's Andretti H
Hannah Biggs with her own Weltzin
Nikki Crisp with her own Pasoa
Richard Davison with the Countess of Derby's (Hiscox) Artemis
Charlotte Dujardin with Mr Carl Hester & Mrs Roly Luard's Valegro
Michael Eilberg with Mrs Julie Deverill's Half Moon Delphi
Michael Eilberg with Mr Ferdi Eilberg's Marakov
Emile Faurie with Ms Joanne Vaughan's Elmegardens Marquis
Judy Harvey with Mr Richard Heley's Fitzcerraldo
Carl Hester with Mrs Sasha Stewart's and his own Uthopia
Emma Hindle with the Brookhouse Stud Ltd's Diamond Hit
Gareth Hughes with Ms Jane Brewin's DV Stenkjers Nadonna
Further information on final selection will be communicated as soon as it is available.
Related Articles
Re-elected: FEI dressage committee member Thomas Baur to continue
Stuttgart – Two years ago at the General Assembly of the International Equestrian Federation (FEI) in Copenhagen (Denmark), Thomas Baur, the Assistant Horse Show Director at the STUTTGART GERMAN MASTERS, was voted onto the six-seat Dressage Committee as the representative of the world's horse show organisers. The General Assembly convened last week in Rio de Janeiro and re-elected the 44-year-old German for a further four
Swallowfield Equestrian
Swallowfield Equestrian is a family-run business managed by Jo Swain (BA Hons) Equine Studies and her team of staff, established in 1995. We offer an outstanding range of full-livery packages. Our full-livery service consists of four packages; bronze, silver, gold and finally platinum. With each package offering a service to suit individual client needs. We also take horses in for holiday livery and short-term schooling l
Phoebe Rocks and Cosford Mellitza Qualified for: First Ridden Show Pony of the Year
Out walked the most beautiful dappled grey pony in the world. Her name, well everyone called her a princess, but Cosford Mellitza was no real princess. She was a dream, better than a Princess.