-
Stableexpress
-
Horse News
-
British Olympic Dressage Nominated Entry List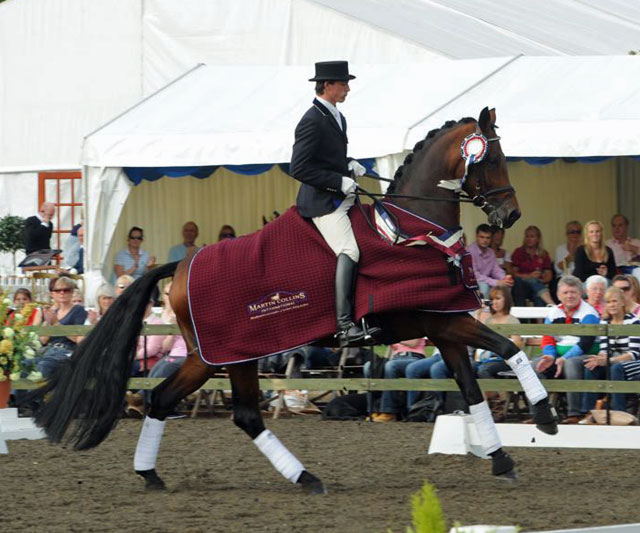 The British Equestrian Federation has released the names of the riders and horses they have submitted to the FEI as the Nominated Entry List for the London 2012 Olympic Games. Only horses and riders listed on the Nominated Entries can be put forward to the British Olympic Association (BOA) for selection. Great Britain is eligible to select four riders for Dressage, three team members and one individual rider. The final selection for Dressage will be made week commencing 2 July.
Nominated entries for Dressage are as follows:
Henriette Andersen with Mrs Paula Potter's Louis D'Or
Laura Bechtolsheimer with Dr Wilfried & Mrs Ursula Bechtolsheimer's and her own Mistral Hojris
Laura Bechtolsheimer with Dr Wilfried & Mrs Ursula Bechtolsheimer's Andretti H
Hannah Biggs with her own Weltzin
Nikki Crisp with her own Pasoa
Richard Davison with the Countess of Derby's (Hiscox) Artemis
Charlotte Dujardin with Mr Carl Hester & Mrs Roly Luard's Valegro
Michael Eilberg with Mrs Julie Deverill's Half Moon Delphi
Michael Eilberg with Mr Ferdi Eilberg's Marakov
Emile Faurie with Ms Joanne Vaughan's Elmegardens Marquis
Judy Harvey with Mr Richard Heley's Fitzcerraldo
Carl Hester with Mrs Sasha Stewart's and his own Uthopia
Emma Hindle with the Brookhouse Stud Ltd's Diamond Hit
Gareth Hughes with Ms Jane Brewin's DV Stenkjers Nadonna
Further information on final selection will be communicated as soon as it is available.
Related Articles
Important Rules Changes to the Drugs and Medication Rules for Competition Horses Become Effective December 1, 2011
Motivated by its commitment to the welfare of the horse, the USEF Board of Directors voted to amend its Therapeutic Drug Rule and restrict use to a single NSAID beginning December 1, 2011. Both the American Association of Equine Practitioners (AAEP) and the American Veterinary Medical Association (AVMA) supported the rule change, and USEF now joins other organizations including the American Quarter Horse Association (AQHA
Emma Hindle and Fürstenreich show strong form at Manheim CDI3*
Erbach-based Emma Hindle and Jim Bamfi's Florestan I gelding Fürstenreich achieved some of their best international grand prix scores yet at Manheim CDI3*, Germany (6-10 May).

On a healthy score of 68.521% the duo clinched second place in the predominantly German Grand Prix Special class, being beaten only by home grown talent Isabell Werth and Don Johnson.

Emma and the 17hh 13 year old shared fourt
Back Problems Prevent Isabell Werth from Competing at 2011 CDI Wiesbaden
Isabell Werth will not be competing at the 2011 CDI Wiesbaden this weekend. The 41-year old former Olympic champion strained her back this week while riding a young horse. Werth suffers from back pain after riding a wild youngster, which bucked a few times with Isabell on top.

"I just had bad luck," Werth explained. "I strained my back on that over-eager youngster. One blow and I felt it in my lower back. It's