Day Three of HOYS - Showing, Derek Morton Retains the Working Hunter Championship Title
Considering it was a sell-out day, you could hear a pin drop as the Andrews Bowen International Arena awaited the Cuddy Working Hunter of the Year Champion, and the quiet was shattered by applause as reigning champion June Snedker`s Keep Talking was announced as the victor for the second year.
Keep talking`s rider Derek Morton, a show jumper by trade whose first victory at `The World`s Most Famous Horse Show` came in this competition last year, believed the Dutch Warmblood may have known the importance of the occasion.
`He just went out and did it this morning,` said Derek. `It`s as if he knew what was at stake and thought `come on, let`s do it`.`
Another reigning champion, Carol Bardo and Mandy Hughes` The Humdinger, fought off stiff competition to retain his title of Coloured Horse and Pony of the Year sponsored by CHAPS (UK) for the third year running. This famous cob gave a classic performance, while the winner of the non-native pony section, Bryntegllwynau Daffodil, took reserve.
A chance for all amateur riders to shine in the spotlight of Horse of the Year Show, this year`s SEIB Search for a Star Championship provided all the excitement of what it is to compete at Horse of the Year Show.
Amongst the six-strong field - all winners of their respective `type` sections – stood the Champion: Anthony Wilkes` winner of the SEIB Search for a Star Show Hunter of the Year, Rustic Midnight Moonshine ridden by Nicola Wilkes.
`I`m just over the moon,` said Nicola. `It [the win] hasn`t even sunk in from yesterday yet!`
The six-year-old bay mare, known as Monster at home, has given Anthony and Nicola the perfect wedding gift. Married in March this year, the couple were due to travel to Australia for their Honeymoon, before Monster qualified for Horse of the Year Show and they travelled to the NEC instead.
The reserve title went to the SEIB Search for a Star Riding Club Show Horse of the Year, Laura Lowcock`s Annagh Spider Monkey.
Ann Fowler`s Broadgrove Only You was crowned Kathleen Wood Children`s Riding Pony of the Year, making it a hat-trick of consecutive titles for the Broadgrove Stud. Ridden by Alexia Trodd-Bohin, the home-produced five-year-old gelding, by Cusop Dimension out of Wychways Overture, produced a foot-perfect show.
It was third time lucky for Mr and Mrs Warner`s stallion Patros HB, who finally clinched the Arab Horse Society Ridden Purebred Arab of the Year Championship, having been placed second in his class for two years prior.
The eight-year-old winner of the Barley Hill Arabians Ridden Purebred Arab Stallion of the Year was ridden by Claire Fitch, who commented: `I just feel absolutely elated!`
Spectators gathered in the Andrews Bowen International Arena for the Classic Dressage Master Class with Team GB Olympic Dressage Rider Richard Davison at lunchtime. The audience were treated to a rare opportunity to discover how top riders train both horse and rider.
There is a whole weekend of action still to come here at Horse of the Year Show, with international show jumping and the finals of the most highly regarded national showing and show jumping championships. Each day spectators can look forward to a performance of this year`s exclusive new display The Final Charge by Atkinson Action Horses, the Equimax Pony Club Mounted Games and the Osborne Refrigerators Double Harness Scurry Racing, as well as the Think Like a Pony Interactive Feature Area and the famous HOYS Retail Village.
For show information, including the full show timetable and timings, and to book, visit http://www.hoys.co.uk or call 0844 581 8282.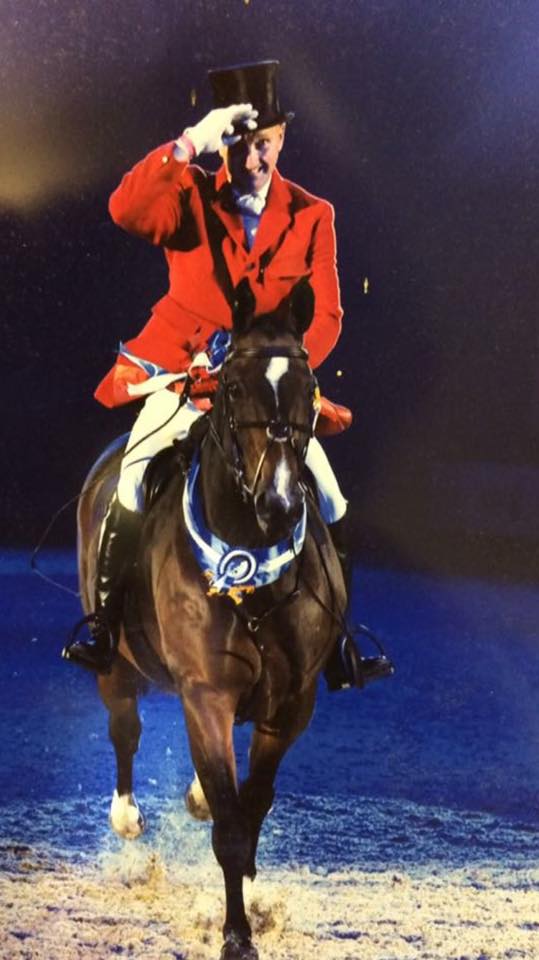 Selle Francais Stallions
- French warmbloods stallions standing at stud, excellent selle francias bloodlines.
Belgium Warmblood Horses - Hunters
Suly de Gravelotte
: BWP Grey mare, 8y.o., 15.3hh,, Junior A/O horse. Auto changes, turns on a dime. Easy horse for beginner jumpers. Quick, precise. Jumping 4'6"-4'9". Huge jump. Impeccable bloodlines: Sire: Goldspring de Lauzelle (Han)out of Gotthard out of Goldfisch II, Dam: M Olympia(BWP). out of Goldfalk out of Grande. correct, impeccable x-rays, vet ok. Video available, price upon request
Forever
: 10y.o. 17.1hh bay Anglo Arab gelding. Lots of chrome.Auto changes, easy to handle, Junior A/O horse. Jumps 4'3"-4'9". Easy keeper.Bloodlines:Sire Iaggo C (AA),dam (AA) Impeccable x-rays, vet ok, sound clean, sane. Video available. Price upon request.
Welcome de la Ferme Rose:
17hh 4 y.o. Bay BWP stallion. Lots of presence. Incredible mover, correct over fences. Impeccable bloodlines: Sire: Quorum de Laubry(BWP) out of Skippy II out of Galoubet A(SF) out of Alme(SF), Dam of Sire: Jessica de Lauzelle(BWP) out of P Feo (Han)out of Wenderkreis. Dam: M. Filie de la Ferme Rose(BWP), out of P. Picasso de Lauzelle(Han), out of P Pik Koenig(Han). dam of dam: Sibelle de la Ferme Rose(BWP) out of Goldfalk, out of P. Grande. Video available, price upon request. Vet ok, clean x-rays
Vasco de Gravelotte
: 5y.o. rose grey gelding (BWP) 16.3hh, jumping 4'3", lead changes, very powerful horse, clean correct, honest horse. Ladies horse. Easy to ride, very intelligent. Incredible bloodlines: Sire: Whitney(BWP), out ofWanderer (Han), out of Wagner(Han) out of Wendekreis(Han), Dam: Sully de Gravelotte, out of Goldspring de Lauzelle(Han). Impeccable x rays, vet ok, sound and sane. Price upon request. Video Available.
Vivaldi
: 5 y.o. chestnut BWP/Hanoverian stallion 16.3hh. International Grand Prix prospect. Currently jumping 1m40/45 (4'6"-4'9") Lead changes, incredibly intelligent, to die for conformation, a real pleaser. Will not make the same mistake twice.Auto Lead changes. Turns on a dime.Incredible bloodlines: Sire: Dominaar(Han)out of Domino Perfect out of Gothaard, Dam: Romance(BWP) out of Goldspring out of Flugel Van La Roche. Price upon request. Videos available. Impeccable x-rays, sound, safe, vet ok.