-
Stableexpress
-
Horse News
-
High Offley Horses At The BSJA Festival Of Showjumping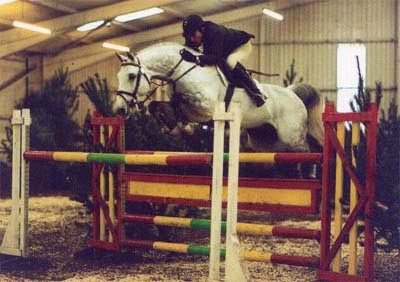 The High Offley Stud have had a very successful week at the easibed scope festival of showjumping, with three horses there crocodile dundy Z, Niagra B and Arturo 9 our horses qualified for 3 finals in which they were placed 5th in all three finals.
Crocodile Dundy Z
Competing in the 1.15m Crocodile Dundy had 4 faults in the first qualifier and jumped double clear in the second qualifier but was not fast enough to qualify for the final. We were very happy with the way he went and so we didn't jump him in the consolation as the ground had deteriorated from the rain
Niagra B
Niagra B qualified for both the 1.30m final so we withdrew her from the Gents competition to concentrate on the championships. Niagra B was 5th in both championships which were both very competitive classes.
Arturo 9
It was arturo 9's first festival of
showjumping
although you wouldn't have known it with 5 rounds jumped during the week he didn't have a single fence, in a strong 5 year old championship he jumped a treble clear and finished in 5th place
Related Articles
For Sale - 9 Year Mare Its Anika
Its Anika by international grade A stallion it's the Business out of a grade B mare. Perfect for someone coming off ponies. Easy ride plenty of scope, good technique, BSJA winnings very competitive 9 year old. Excellent Temperament good box, show, clip and in traffic. Can be seen in livery at High Offley Stud for sale on behalf of a client must go to a good home contact Pat: 07811 329 229
New Foal Born At High Offley Tipsy, Frou Frou D`anchin x Furioso Z
The High Offley Stud breeding program has produced another exciting foal for the future, High Offley Tipsy combines some of the finest bloodlines from europe including Frou Frou D`anchin, Rivage Du Poncel, Furioso Z, Furioso II, Grand Veneur and Uriel. High Offley Tipsy is by our own selle francais stallion Frou Frou D'anchin.

Frou Frou D`anchin is a very handsome 16.3 Selle Francais Bay Stallion with presence and char
Niagra B Wins Breeders Cup
Derek Morton & Niagra B were in fine form at this years festival of showjumping at Arena UK. The pair led from the front beeing the first to go in a 9 horse jump of to win the £500 prize money.