-
Stableexpress
-
Horse News
-
High Offley Horses At The BSJA Festival Of Showjumping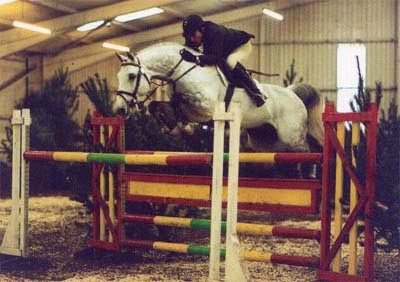 The High Offley Stud have had a very successful week at the easibed scope festival of showjumping, with three horses there crocodile dundy Z, Niagra B and Arturo 9 our horses qualified for 3 finals in which they were placed 5th in all three finals.
Crocodile Dundy Z
Competing in the 1.15m Crocodile Dundy had 4 faults in the first qualifier and jumped double clear in the second qualifier but was not fast enough to qualify for the final. We were very happy with the way he went and so we didn't jump him in the consolation as the ground had deteriorated from the rain
Niagra B
Niagra B qualified for both the 1.30m final so we withdrew her from the Gents competition to concentrate on the championships. Niagra B was 5th in both championships which were both very competitive classes.
Arturo 9
It was arturo 9's first festival of
showjumping
although you wouldn't have known it with 5 rounds jumped during the week he didn't have a single fence, in a strong 5 year old championship he jumped a treble clear and finished in 5th place
Related Articles
Zip Z arrives at High Offley
Well after a weeks wait Zip Z has arrived, purchased in the Zangersheide auction at the world breeding championship it has been a long trip for him all the way from Belgium, but at least he had company with Lisa Hales two foals purchased in the auction one by Baloubet du rouet and the other by Kannon, we would like to say a big thank you to the Hales for looking after him at their yard when he arrived. He will now be turn
Arturo 9 Passes Sports Horse Stallion Grading
Our home bred Stallion Arturo9, by International Grade A Arturo 8 out of the beautiful Grade A La Bohemme, has passed his three year old sports horse grading and will now go on to the AES grading at the end of the year.
Training Young Horses
Everything you need including: spacious boxes, Indoor School, Outdoor School, Horse walker and over 100 acres of grazing, High Offley Stud Has a has a large team of dedicated staff who look after all aspects of the day-to-day running of this equestrian yard, as well as horsebox transportation to shows. High Offley Stud specialises in producing young horses for the future or for sale, you can benefit from our vast knoled