-
Stableexpress
-
Horse News
-
High Offley Horses At The BSJA Festival Of Showjumping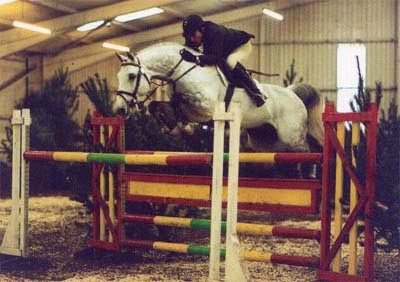 The High Offley Stud have had a very successful week at the easibed scope festival of showjumping, with three horses there crocodile dundy Z, Niagra B and Arturo 9 our horses qualified for 3 finals in which they were placed 5th in all three finals.
Crocodile Dundy Z
Competing in the 1.15m Crocodile Dundy had 4 faults in the first qualifier and jumped double clear in the second qualifier but was not fast enough to qualify for the final. We were very happy with the way he went and so we didn't jump him in the consolation as the ground had deteriorated from the rain
Niagra B
Niagra B qualified for both the 1.30m final so we withdrew her from the Gents competition to concentrate on the championships. Niagra B was 5th in both championships which were both very competitive classes.
Arturo 9
It was arturo 9's first festival of
showjumping
although you wouldn't have known it with 5 rounds jumped during the week he didn't have a single fence, in a strong 5 year old championship he jumped a treble clear and finished in 5th place
Related Articles
Christmas Greetings
Last year brought to the stud a lot of new customers as well as many of our old friends who again used Arturo 8. We have recieved many letters of thanks and the foals have been highly acclaimed, winning at county level.

We would like to thank you all for your patronage and we look forward to seeing you again in the new year. Why not take advantage of our early booking discount.

We Wish you all a very Merry
Sunnora`s Son second in 1.25m at Whitchurch
Took four horses to Whitchurch but only jumped two. In torrential rain Sunnora`s Son jumped one of only two double clear rounds in the 125 open to finish a very creditable second. Niagara B jumped in the worst of the weather to finish fifth. We then abandoned and went home.
Niagra B Returns From Spanish Sunshine Tour
As well as the three internationals High Offley stud was also represented in the age classes by the 7-year-old mare Niagra B a horse we have produced from a 5-year-old. Niagra B jumped consistently throughout the tour with many places including two seconds, she easily qualified for the final but with terrible weather conditions she was unlucky to have to jump in a downpour and failed to make the jump-off