-
Stableexpress
-
Horse News
-
Pink Equine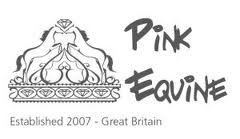 Pink Equine strives to offer only the highest quality matching bridle work and equestrian horse tack.
Denise Field Director of Pink Equine says
"In everyday life we use colour and design to express a little about ourselves. It's those things that are part of what makes us individuals, what makes us unique."
Pink Equine.com brings that individualism to your horse or pony, whether you are a leisure rider or a serious competitor, whether you're into Dressage or Show jumping, there is a Pink Equine style to suit everyone.
Whatever your equestrian preference, we've got the right combination that's personal to you.
In addition we give you a variety of sources to enhance your shopping experience and help you choose, including full product descriptions and specifications, incredibly detailed images, customer reviews and personal recommendations
WHAT YOU CAN DO
Browse and search for specific horse tack products by area Browbands, Bridles, Boots, Saddlepads, Luxury Grooming Brushes, Girths, Headcollars, Whips, Crystal Key Rings
Get your purchase beautifully gift wrapped as a present
Create a wish list and never receive an unwanted present again!!
Its simple to buy online or by telephone, we even have online assistance!
Related Articles
Pink Equine
Pink Equine strives to offer only the highest quality matching bridle work and equestrian horse tack.

Denise Field Director of Pink Equine says

"In everyday life we use colour and design to express a little about ourselves. It's those things that are part of what makes us individuals, what makes us unique."

Pink Equine.com brings that individualism to your horse or pony, whether you are a leisure ride