Horse Riders
Stableexpress has an extensive database with information, news, pictures and videos of horse riders from all around the world, for the multitude of different equestrian sports, including showjumping riders, dressage riders and eventers
Douglas Stewart
Douglas Norman "Duggie" Stewart, (born 24 June 1913) is a military officer, equestrian and Olympic champion from the United Kingdom. He won a gold medal in show jumping with the British team at the 1952 Summer Olympics in Helsinki.
Pippa Hahn - British Event Rider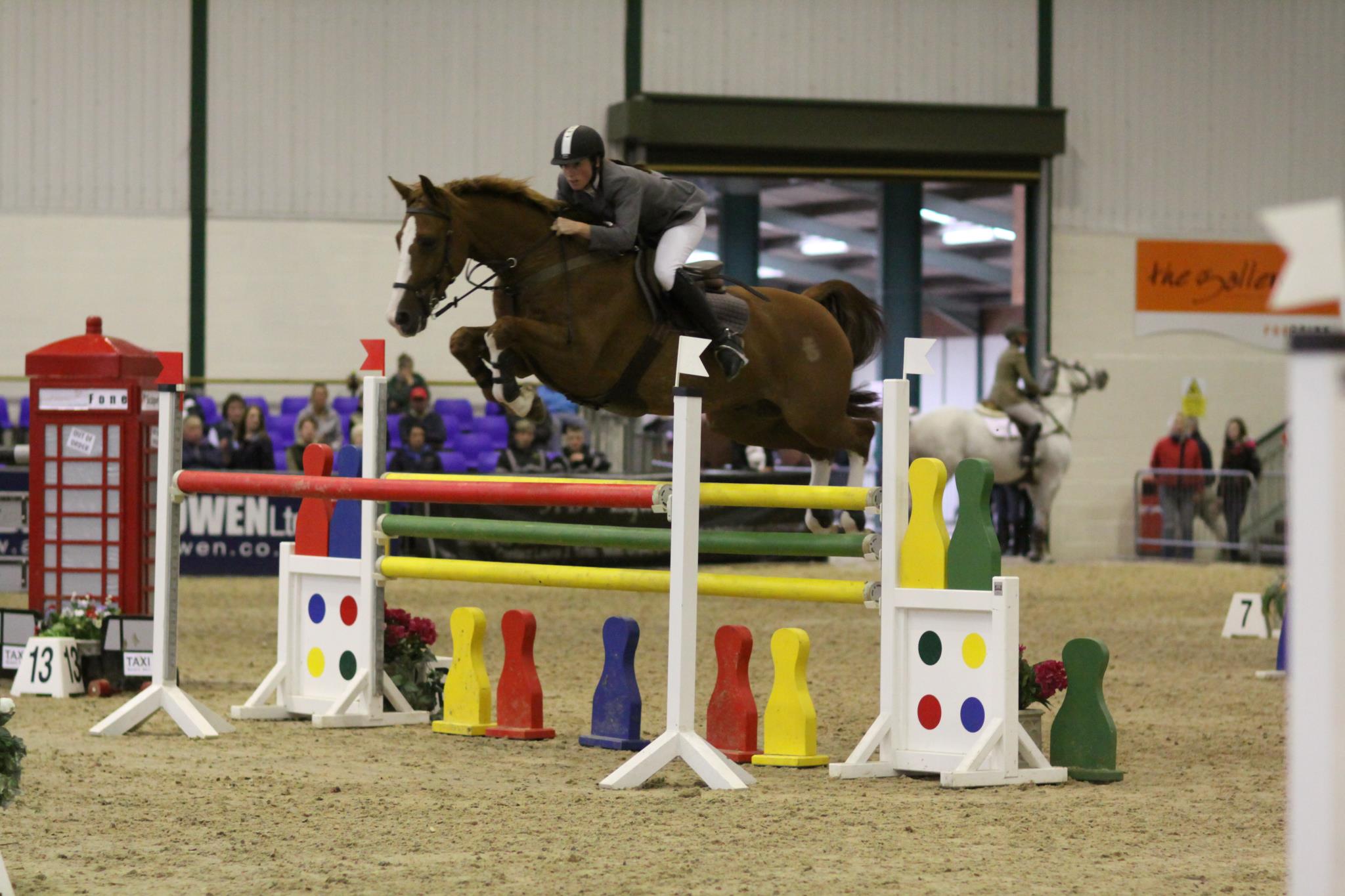 Liz Lukehurst
I am 27 years old from Market Harborough, Leicestershire and now living near Halifax. I came into vaulting from a background of swimming, gymnastics and horse riding. I started vaulting at the age of 11 having seen an article on vaulting in a magazine. A local club started allowing my vaulting career to begin. I started at the lowest level moving up and changing clubs as my ability improved, becoming a member of EVS in 2001.
My British achievements are as follows;
Pre Novice team champions 1994
Intermediate team champions 1996
Advanced team champions 1997 and 1998
Pairs champions, with my twin sister Sarah 1995, 1996, 2001 and 2002.
Individual female champion 1999, 2002, 2003 and 2005.
I began my international career in 1997 coming last in the female individual class in Holland. From these humble beginnings I was selected to represent Great Britain at the European championships in Slovakia 1999 and I have been selected for each of the following years to date.
This included competing at 2 other European championships, 2 World Championships and 2 World Equestrian Games.
I have also competed at many other international competitions over the years in many countries, including France, Holland, Switzerland and Germany.
I am also a level 3 vaulting coach. I have used this knowledge to help train EVS and to start up new clubs including Trent Parkers', north London. I am currently considering becoming a judge. I have also spent a short period of time on the BEV management committee as English rep. This led me to becoming coordinator of the BEV badge scheme, which is currently under review.
In July 2003 I graduated with 2:1 from Oxford Brookes University in Exercise and Health with Food Science and Nutrition. Any spare time I have left is spent with Robin, in Halifax. I also enjoy going to the cinema, beer festivals, and listening to music. I have to thank Robin and my parents for all the support I have been given over the years.
Laura Jarvis - Nottingham - Dressage Rider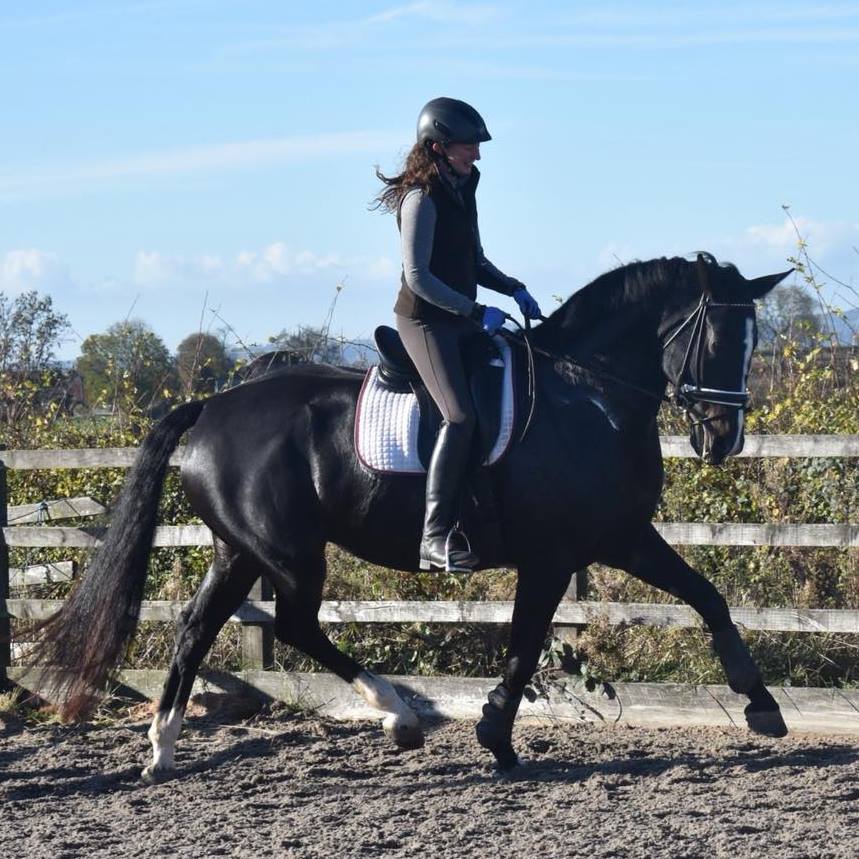 Graham Dalton
Graham Daltons love of horses began at the age of 16, he spent just a short 6 months competing ponies before moving onto showjumping horses. His parents believed that for Graham to progress to a good level in his career, his flatwork was crucial. Therefore, he was sent to Major Lynch at Westerham for intensive training to learn the correct way to back and produce young horses. Graham then continued to have a sucessful career in showjumping on the county circuit. In 1970, Grahams best horse Abbey Larah was jumping in an international class in Hicksteads main ring when unfortunately she slipped at the water jump breaking her leg leaving her to be put to sleep at the scene. From then on Grahams interests turned to breeding. He soon realised that with limited funds he could never replace Abbey Larah and breeding his own ` superstar ` was his only option. His first stallion was bought in 1971 from Albert Davidsons racing yard. He was a 16.1h bay TB stallion named Polynia. From there he purchased graded stallions Hasardeur and Azuro. His breeding program then began...
Graham met his future wife Julie in 1979 and they married in 1980. In 1983 they had their first and only son Ben.
Ben was not interested in the horses until he was around 15, leaving Graham to run the business singlehandedly, with a serious knee injury Graham was not competing anymore. He was just breeding ten or so horses a year to sell on and had the odd competition horse in to ride. At 15, Ben decided that horses would be worth a go and he started riding Buster, a scruffy little coloured pony that had come in in part exchange. As soon as he started winning on this talented little pony there was no stopping him. Graham and Ben then ran the breeding business together and they also started buying some horses for Ben to compete. Ben has had a successful career on horses jumping classes including Grand Prix`s Young riders european trials, International speed classes, Hicksteads Speed Derby and he was the highest placed british rider in the Masters at the international competition Panhof.
At present, Ben and Graham are breeeding around 10 - 15 foals per year and are concentrating on getting a strong string of young homebreds together for young horse classes. Egerden Farm Stud is a family run business based in the heart of Kent. We specialise in breeding and producing quality sports horses for showjumping, dressage and eventing. We are lucky enough to own a number of stallions with some of the most demanded bloodlines in the world including Jasper, Ramiro Z, Darco, Quidam De Ravel, Calvados, Lauriston, Contender, Renville, Nimmador and Corland to name just a few.
Robert Luke - Event Rider, UK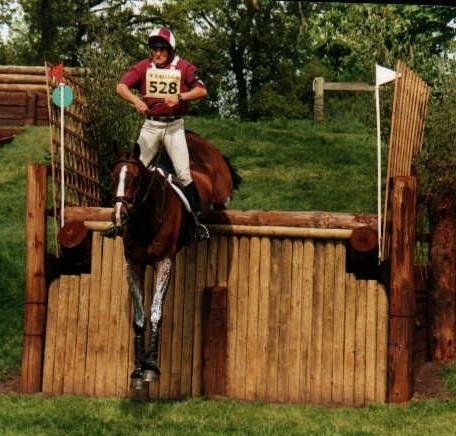 Julie Tew - Event Rider
My parents, through their own hard work and devotion to the family, have instilled in me the ethics of dedication, commitment, and an ambition to achieve. From humble beginnings, the success of the family business has provided me with the opportunity to follow my chosen career. Each day I realise how fortunate I have been.
My love affair with horses began very early in my life. Even though years later both my parents became active riders, at that time my family did not have a horsy background. On my second birthday I was given a gift of a riding hat by my granny. This one small gesture set my life on a pathway my granny could never had imagined, and to this day, aged 95, my granny is one of my greatest supporters.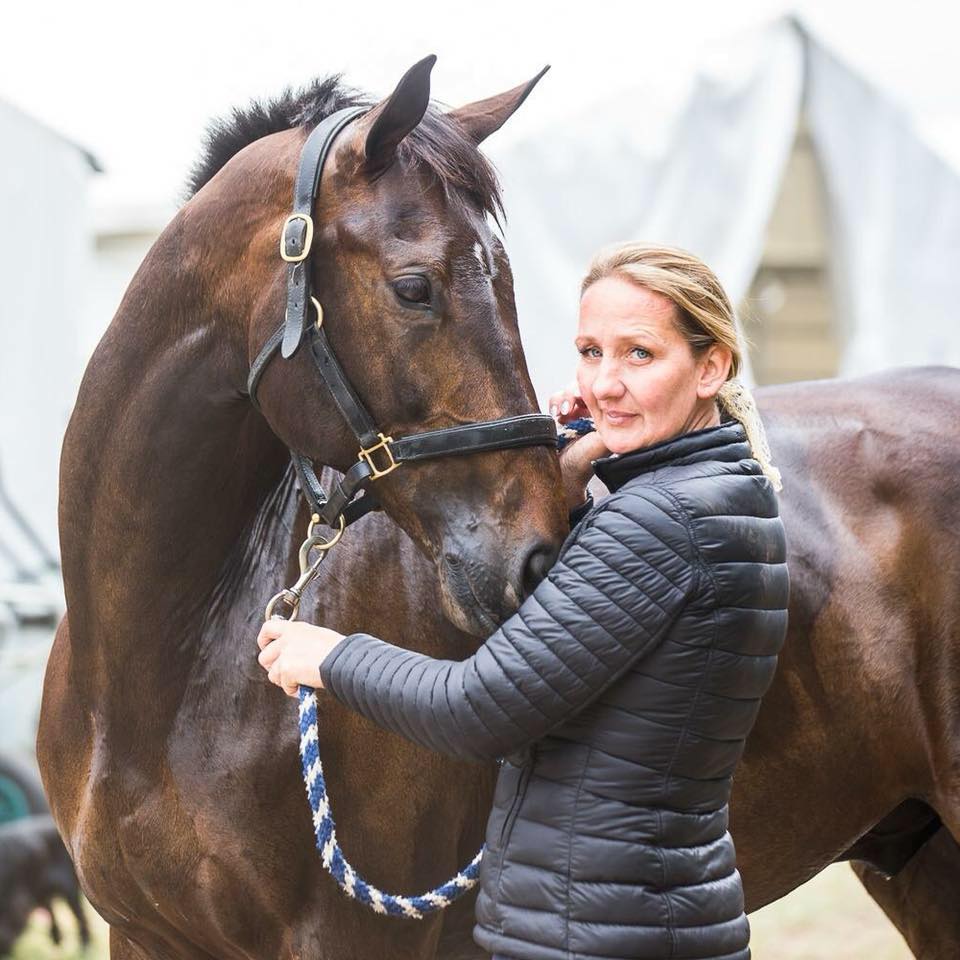 Occasional outings on the lead-rein at Upton St. Leonards Riding School while my mother hired a horse for an hour`s hack, led on to regular lessons at the Badgeworth Riding Stables in Cheltenham on a pony called Sooty. When I was two and a half, on a rare half-day holiday, my father rescued a Shetland Pony from Stow Fair. We called him Bubbles. Bubbles, although an unplanned purchase, had become our first foray into horse ownership. Bubbles arrived at his new home and was let out into our extended garden, which we called 'The Field'. Frustratingly, we couldn't catch him for four weeks!!
Bubbles was finally caught after my mum bribed him with food, and I was duly put on board. So began my riding career. Mum and Bubbles had developed such a bond that wherever mum went, Bubbles was sure to follow. Just as I was starting to outgrow Bubbles, a chance conversation between my father and a friend resulted in me being given my next pony, Blue, an 11.2 grey gelding. After a few outings, I began to realise why Blue had been given away. Blue had a nasty habit of dropping his shoulder every time we landed after a jump, resulting in me taking many a tumble. As my younger sister Susie had taken over the task of riding Bubbles, I was forced to persevere with Blue. For all his faults I loved Blue, but eventually my parents had had enough of me falling off, and I was introduced to Cindy, another cheeky grey pony.
Cindy had suffered with back problems in the past, but as they were all hopefully mended we decided to give her a try. My parents always insisted that if I wanted to have a pony, I would have to look after it myself. I would feed, muck out her stable and put Cindy in the field all before school. After school I would rush down to see my little pony in the field, tack her up and ride her. I did this most days, no matter what the weather. Cindy brought other challenges for me. She could go very quickly in the opposite direction, which taught me the benefits of holding on tight. I started going Hunting with the Cotswold Hunt where Cindy and I were just happy following the other horses. All day I would dream of the thrill of galloping and jumping, and I could not wait for the Saturday when I could go out Hunting again. Cindy and I took part in Pony Club rallies and went to Pony Club Camp where I met many new friends who enjoyed doing the same as me!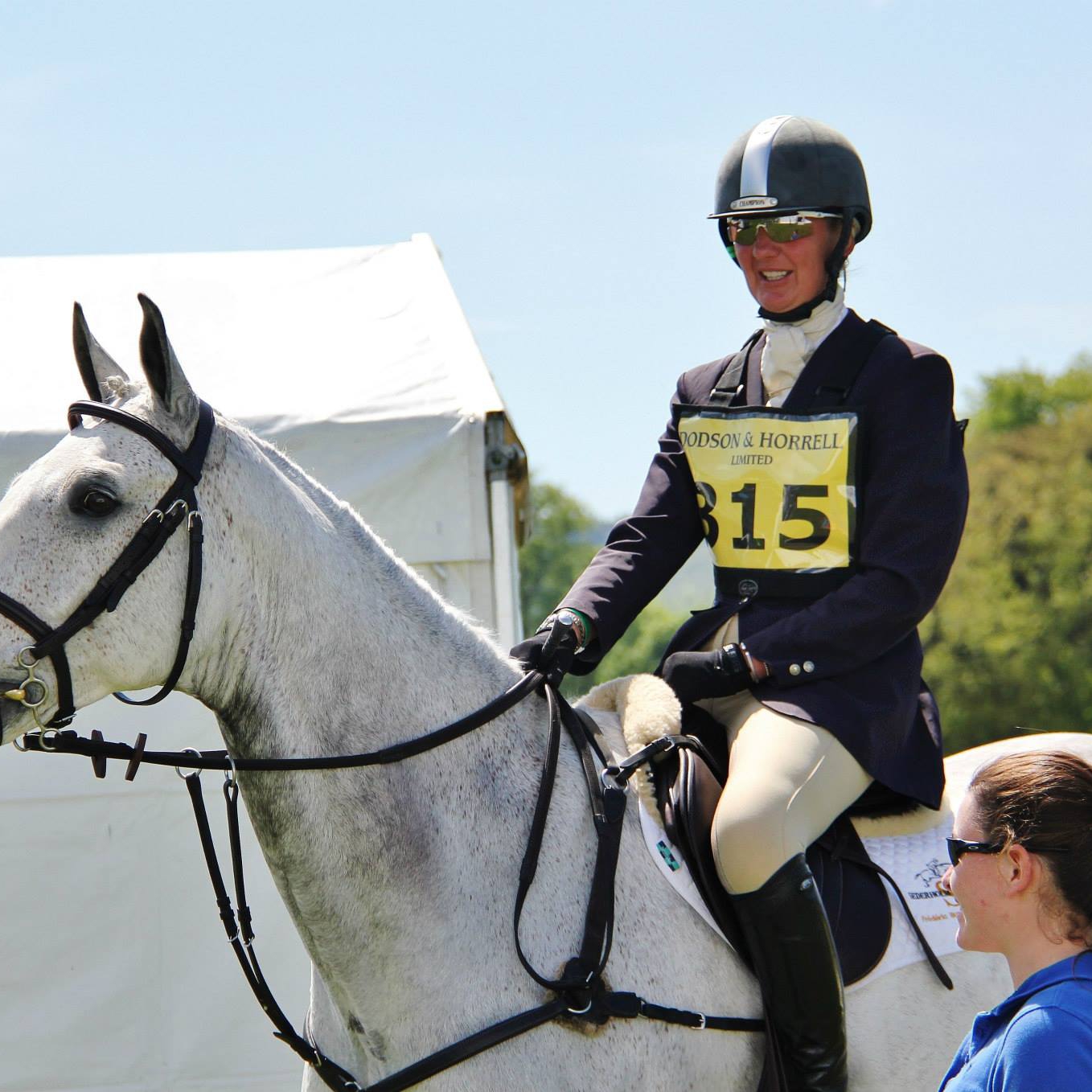 As my parents business became stronger, it allowed them the opportunity to purchase Amber, a 13.2 grey mare which they bought from Barbara Scudamore, a staunch Cotswold Hunt supporter. Already showing my passion for greys, which has stayed with me to this day, Amber was 7 years old and absolutely gorgeous. As I had outgrown Cindy, I put all my energy into Amber. I wanted to start Pony Club Eventing and I realised that I had to learn to do Dressage, so Amber and I would learn together. Her natural head carriage was not that of a Dressage horse, but we persevered and eventually even managed to win some of the Events we entered. Amber and I also went Hunting, Hunter Trialling, Team Chasing, played Polo and Show Jumped. She was an all-round superstar and I loved her to bits. I was devastated when I outgrew her, and she too was handed down to my sister Susie.
I believe most strongly, that these little ponies, with all their different characters and foibles helped me form into the rider I am today. I learned how important it is to form a relationship, to build up a trusting partnership and to be a determined rider. At the age of eight, I already knew what I wanted to be, and that was an Event Rider.
My parents had started to search for a 14.2 replacement for Amber, and Pam Cowley, the Cotswold Pony Club District Commissioner told them about a pony she knew. Hailes Emir (Ems) was part thoroughbred and quite a lot of pony for me to handle. I rode Ems many times before a decision was made on him, and even though my parents were a little hesitant in buying him for me, they decided to take the risk. Ems was more like a little horse, and at the age of 10, I had to find other skills and ways to control him. Although quiet to handle, he was a powerful pony.
My mother was so worried about the two of us, she would follow us everywhere in case I came to grief, but gradually Ems and I began to build a relationship and it was here that I learned that pure strength was not enough to stop a pony, but something more subtle. Ems was a pony that would take me on to a different level of competition. When I was 11 years old, my parents were asked if Ems and I could go to the Pony Club Area Trials as individuals with the Cotswold Team. It was to be the biggest course I had ever ridden and even though the Team did not qualify, Ems and I did as individuals. We were on our way to the Pony Club Championships!!
The Championships were held at Weston Park and I was overwhelmed while walking the course at the sheer size of the fences. As I watched all the older children walking their lines and counting the strides, I realised that I hadn't got a clue, but Pam Cowley gave me some good advise, "Just kick on, and you will be fine!!" I knew that Ems would look after me, and if I kept calm and remembered all I had been taught, I hoped that we would get round safely. My Dressage test went badly and with a score of 91 points, I lay in last place. However, we went clear Show Jumping and Cross Country and I finished the competition on my Dressage score. This event was a milestone in my life. I realised that if I was going to pursue with competing, I would have to put a lot of hard work into my Dressage. I also woke up to the fact that I had become a very competitive individual.
I continued taking part in all the Pony Club activities and started to take Dressage seriously. The next year, I was back at the Pony Club Area Trials, this time as part of the Cotswold Hunt Team. The Team qualified for the Championships, where Ems and I again jumped double clear with a much better Dressage score - although still not good enough to win! At 14 years of age I started entering the British Eventing Pony Trials and from my success in these I was put on the Long List and asked to attend the Final Trial at Offchurchbury. This went well and I was delighted to be selected to represent Great Britain at the European Pony Three Day Event Championships in Millstreet, Ireland. I had just had my 15th birthday and was full of excitement and hope. Even though my weakest phase was still the Dressage, we jumped a double clear and won a Team Silver Medal. I was also 10th individually. At such a relatively young age, this still holds many fantastic memories for me and my family.
I was now 16 and found myself in Juniors and out of ponies. The only problem was that I did not have a horse to ride. My father decided he would let me try a few events riding his own horse to see how I would manage. My father bought 12 year old Venture to Tell, fondly known as Venture to Hell (Sid), for a small sum of money as he had broken someone's leg out hunting and was duly banned from the hunting field! Sid had competed with various degrees of success with my father at Novice level for four years. He hated horses coming towards him and was renowned for changing direction very quickly when any did! He was also not very fond of Dressage and preferred to act more like a camel when performing his tests.
Unfortunately for my father, Sid and I hit it off immediately and I took him from Novice to Advanced in one season! I won several Intermediate Events and I participated in the Junior Trials. Another of Sid's bad habits was that he refused point blank to jump a practice Show Jump fence. I was in the lead at Brigstock Junior Trial after the Dressage and Cross Country phases, and true to form Sid refused to jump a single Show Jump fence in the practice area. I could see everyone watching me and heard whispers of how sorry they felt for me, but once again Sid jumped an immaculate clear round in the ring and we won!! I was invited to compete at Windsor Junior Three Day Event which was mandatory for selection for the Junior European Championships, but we were out of luck as Sid developed a splint a the age of 14 and we were unable to go. This was the first time he had been lame in his life.
During this period my father purchased a five year old thoroughbred called Bold Member (Ollie), a horse that he hoped to compete himself. My mother also purchased an unbroken four year old thoroughbred called Henry Tudor (Henry). She hoped to have some fun herself, and to bring Henry on to compete. My father very kindly let me compete Bold Member in some Novice and Intermediate events, and also at Junior Trials. Although we were not invited to compete in the Windsor Junior Three Day Event, I did however qualify Ollie to compete in the Senior Section, where we finished last on a score of 423!!!
This was not quite the disaster that it sounds as we did in fact jump an immaculate double clear with a decent Dressage score. During the roads and tracks phase I thought that Ollie had gone lame so I dismounted and trotted him up and down to see what the problem was. I wasted so much time doing this I considered retiring, but just then Nigel Taylor came trotting past me and asked what was wrong? I explained, only to be told by Nigel that Ollie looked fine to him. I quickly mounted, as if I had left it any longer I would have been out of time on the Roads and Tracks phase. I made it back to the 10 minute box, but had accumulated huge time faults. I was, however, Long Listed for the Junior Europeans and invited to compete in the Final Trial at Tythrop, after which I was placed on the Short List. Sadly, Ollie had a niggling suspensory ligament and so, once again, I did not make it to the Junior Europeans.
The next year took me into Young Riders with Bold Member and Henry Tudor to compete. Henry was a lovely horse but was prone to colic attacks, which he started having from a very early age. Ollie also was not the soundest of horses. Although Henry had been very successful in Horse Trials the stress on him caused high lactic acid levels which wasn't helping his colic attacks. My mother decided to sell him as a Hunter as he seemed to cope better with this less stressful situation.
I was 18 years old and desperately wanting to compete in the Young Rider Trials. At home I had taken the job of managing and running the yard and as I had left school and I enjoyed looking after the horses by myself. Bold Member went very well in the Trials, but had a few recurring injuries and these, compounded with his allergy to grass, meant that sadly, he was dropped from ever being chosen as a Team prospect. As I didn't really have anything else to compete for Young Riders, I persuaded my mother not to sell Henry and to let me try and continue with him to see if I could find some way of keeping him fit and healthy for competing. She agreed to let me try, so I spoke at length with feed specialists and vets to see what we could do. His hard food was cut down to very small amounts of horse and pony cubes and with various additives to control his lactic acid levels, we proceeded with his Eventing career.
The Atlanta Olympics were to be held the following year and there was a lot of worry about the effect the heat would have on the horses competing. I was not in contention for the Young Rider European Championships, but was extremely honoured to be asked by the Young Rider Selectors to take a horse to test ride in Georgia, USA. I was to go for six weeks to see the effect the heat would have on myself and the horse. I would take part in a Three Day Event at the end of the six weeks and I could not have been more excited as this would be the experience of a lifetime.
Lucy Dickens, Hugh Lochore, Mark Wilder, myself, horses, David Marlin and colleagues and vets from the Animal Health Trust all travelled to Germany to meet up with other teams of riders and grooms from Germany and Italy. From here we all flew to Atlanta where for four weeks we were based close to the Event site, then from there we drove on to Carl Boucart's farm in Dalton where we took part in the Three Day Event. This was an invaluable experience for me and armed with new found knowledge, especially on how to cool a horse down, I resumed my competing once home with Henry Tudor, my Event life prospered.
Henry and I were placed 3rd in the Young Rider Trial at Brigstock in 1995 winning the Land Rover Bursary, and 7th in the Young Rider Championships at Bramham. I was invited to the Final Trial at Hartpury where Henry and I finished 3rd. However, it was at this time in my life that I began experiencing back pain. Determined to push through this, I continued with Eventing and was fortunate enough to be selected for the Young Riders Championships in Aschelswang, Germany. I was a Great Britain Team Member, and to my absolute delight we won Team Silver. The honour of representing my country is as special to me now as it was back then.
In 1996 Bold Member proved himself. In my first year riding as a Senior, we went to Pau CCI** and we came 4th. I was also nominated as the Best Lady Rider. In 1996 I entered Badminton Horse Trials with Henry Tudor but unfortunately and with great sadness, he was hit with another very bad colic attack a month before we were due to compete. Henry had twisted his gut and was rushed for surgery. He died 9 days later. I was, and still am, devasted at losing such a gentleman and friend in such a way.
Through all this time my back pain got continuously worse. I would experience terrible pain down my left leg which would last for days and then suddenly disappear. For five years I persevered with my Eventing and tolerated the pain but it got progressively worse. Each time the pain appeared it would stay for longer periods, sometimes up to a month at a time. It got so unbearable it became difficult to walk. The level of pain caused problems when I rode, and living with it became a nightmare.
Throughout the five years of pain I saw many doctors and Physiotherapists and with each visit I became more and more despondent as nobody seemed to know what was wrong with me. In 1999 I was referred to one of the country's top physiotherapists in London who injected my left foot and back with pain killers and steroids. The pain would lessen for a while, but then it would come back much worse than ever before. Eventually he decided he could do no more for me and referred me to a top Neurosurgeon.
In January 2000, after six years of suffering I was sent for an MRI scan. The scan discovered a tumour the size of a five pence piece inside my spinal column. I was told that it had to be immediately removed and that there was a 50/50 chance that removing the tumour could damage my spinal cord which could result in me being paralysed.
Living with the terrible worry of whether the tumour was cancerous played gravely on my mind, and of course, my family and friends who suffered with me. They were dark days, but while I had my horses I had hope.
In October 2000 I had the operation. It was a high risk operation, but thankfully the tumour was found to be benign. Even though the tumour was removed successfully, the operation had disturbed the nerves around my spine causing me to lose all feeling in my left leg and foot. I was unable to walk and sadly, found myself wheel-chair bound. It was a dreadful time. I was told that I would need six months in rehabilitation and that I would have to learn to walk again. I was told also that it was unlikely I would ever ride again.
I had been so close to fulfilling my dreams. I had completed Blenheim CCI*** on two horses in September 2000, I could not imagine giving up on my chosen career at such a young age. There was no way I was going to listen to what I was being told! I set myself a goal, that I would walk out of hospital within six weeks. I also told my Surgeon and Physiotherapists that I intended to compete the following season starting in March 2001. They, of course, all thought I was completely mad.
My Surgeon was the Medical Officer for Brands Hatch Superbikes and we spent a lot of time comparing the differences between riding a horse and riding a motorbike, (his mode of transport in and out of London). He had put back together the likes of Carl Foggarty, so he understood my determination to prove everyone wrong. I was told that eventually the feeling should improve in my leg and foot, but it would be a slow process over the next five years. I was also told that I would have to adapt to the difficulties of moving about, and to the loss of balance when I walked. Basically, all the damaged nerves had to be re-educated, and I was like a small child learning to take their first steps but with no feeling in my left leg and foot at all.
After the operation, I could not stand and would need two people to hold me up. I could not feel the floor beneath me, and I could not balance myself. It was a very frightening time, but I worked hard in rehabilitation and with my physiotherapy. I fought. I got angry. I would not give up hope that I would walk out of hospital and get back into the saddle. With a great deal of help, I achieved my goal. Six weeks later, I walked out of the hospital and shortly after, I climbed back into the saddle.
I actually found that riding helped stimulate my nerves and slowly the feeling improved. I would face challenges, of course, but that was nothing new to me, and true to my word, the next March, I was ready to compete again. In 1997 Sir Roselier came into my life; affectionately known as Lumpy to all who know and love him. He is my most treasured of horses. Lumpy was the horse who had to cope with my weaknesses, but through that time he never once stopped trying for me. He is a top level horse and his results have proved that.
In 2001 Foot and Mouth hit our shores. All events were cancelled, along with my hopes of going to Badminton with Sir Roselier, who had gone so well at Blenheim the previous year. There were no Events taking place in Great Britain. A large British contingent decided to go to Saumur CCI*** in France, as horses were being allowed to travel across the channel. Eventually, at the end of May, I resumed my competitive career at Saumur. Over the next two years I had many falls due to my loss of balance, and many times I came close to giving up Eventing completely. I had come so far though, I just could not give up on myself and my horses. I am now confident and strong in my riding, and I owe much of that confidence to Lumpy. I have always felt that Lumpy and I were meant for each other.
Over the years I have learnt to adapt my riding to account for my lack of balance and other weaknesses. Today, I am strong and am living my dream. I feel that I have achieved so much after losing nine years out of my life with pain and surgery. Not only have I fully recovered, but as of today I am placed 24th out of the Top 100 Event Riders in the World. Through 2006 and 2007 I have been slowly gathering a strong and highly competitive team of horses with potential for a Great Britain Team place. I have had some exceptionally good results and I am confidant and happy with my riding and my life. One of my horses, Look Out (Jack) has been put on the Long List for the Beijing Olympics and I have Look Out, King of the Catwalk and Lord of the Owls on the Equine Pathway for the 2012 London Olympics. I am full of hope for my own future and those of my horses.