-
Stableexpress
-
Horse News
-
Jos Lansink wins World showjumping title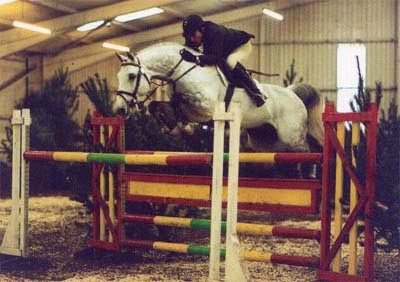 At the end of a grandiose Jumping Finale, Jos Lansink (BEL) was crowned the 2006 World Individual Jumping Champion without having committed, himself or his grey stallion Cavalor Cumano, a single mistake for the whole competition with rotation of horses. The silver goes to Beezie Madden (USA) and the bronze to Meredith Michaels-Beerbaum (GER).
It was a day of fabulous sport and, most importantly, of fun and pleasure. "It was a lot a fun," a smiling bronze medallist Meredith Michaels-Beerbaum said. "It was not as stressful as I had imagined."
Was the 8-fence 10-jumping effort course too easy or were the riders and their mounts too talented? In front of some 50,000 breathless spectators, a clear round followed a clear round which was followed by yet another clear round. Sceptics had questioned the three ladies - Edwina Alexander (AUS), Beezie Madden and Meredith Michaels-Beerbaum - abilities to ride Jos Lansink's energetic Cavalor Cumano but the problems did not come with this well educated horse.
Meredith's clever Shutterfly is particularly sensitive to noise and is usually never walked and exercised inside a competition venue. The ovations proved too much of a stress for him and he would not let Edwina Alexander's saddle be put on him. When that finally happened, she rode beautifully but a little too much of a hand caused the first bar - after 15 rounds - to fall definitely annihilating Edwina's hopes for a medal.
A jump-off was needed to break the tie between the remaining three riders, all of whom had gone clear so far. Clear for Jos and Cumano and a time of 45.01s; one fence down for Meredith and a fantastic time of 43.74 for Beezie but one - the last - fatal bar down. "Authentic is a horse with a lot of blood and perhaps we both let go a bit too early thinking we were home free after the penultimate vertical," Beezie Madden said.
The 2006 FEI World Equestrian Games finish in a flourish of sporting triumph and emotion. The FEI flag is now Kentucky's and a beautiful page of horsesport has been written. But before we turn it for good, let us pause for a moment and think about what makes a true champion.
Talent no doubt, good horses of course, a lot of work for sure, a little luck perhaps. And yet all these combined together make up for a very good and successful rider but not quite for a champion.
The magical touch that makes the difference is faith and team spirit: to hope against hope, to fight until the end, to never let go, to believe whatever the odds, to always see your success as a tribute to a team.
And this is why Anky, Meredith, Zara, Jos, Tim, Jeroen, Megan or Virginie have medals and we don't.
Related Articles
Jos Lansink wins World showjumping title


At the end of a grandiose Jumping Finale, Jos Lansink (BEL) was crowned the 2006 World Individual Jumping Champion without having committed, himself or his grey stallion Cavalor Cumano, a single mistake for the whole competition with rotation of horses. The silver goes to Beezie Madden (USA) and the bronze to Meredith Michaels-Beerbaum (GER).

It was a day of fabulous sport and, most importantly, of fun and pleasure. "It was a lot a fun," a smiling bronze medallist Meredith Michaels-Beerbaum said. "I
Brendon Stud Promoting a Premier Stallion Jumping Show At Patchetts Equestrian Centre, Herts
Brendon Stud is promoting a Premier Stallion Jumping Show to be held at Patchetts Equestrian Centre, Herts on Saturday 5th April 2003. The schedule is currently being finalised with provisionally two age classes and four open classes from 1.10m and including a 1.40m Grand Prix.

There will be extra prizes awarded including rugs donated by All Time Equestrian as well as excellent prize money totalling £7,500 for
Qualifications have been completed, and the list of Junior riders for Lausanne horse show is now known
Thursday, September 13 in the evening, on the main track of the Lausanne International Horse Show just installed, the opening event will be held from 17h . Best Junior Vaudois, qualified during tests in recent months, the appointment will be for a trial free access. Riders Juniors will have the chance to tread the path of Lausanne International Horse Show alongside the riders CSI5 * . The event will run in relay in a give
Ellen Whitaker Takes Time Out
British showjumping has been dealt a major blow after the sport's acclaimed 'golden girl' Ellen Whitaker revealed she will not compete for Great Britain again this year following a row with Rob Hoekstra. Yorkshire-based star Whitaker has accused Britain's new showjumping world class performance manager of interfering "with the way I do everything."

British Showjumping, though, has offered its full support to Ho