-
Stableexpress
-
Horse News
-
Nick Skelton wins European showjumping individual bronze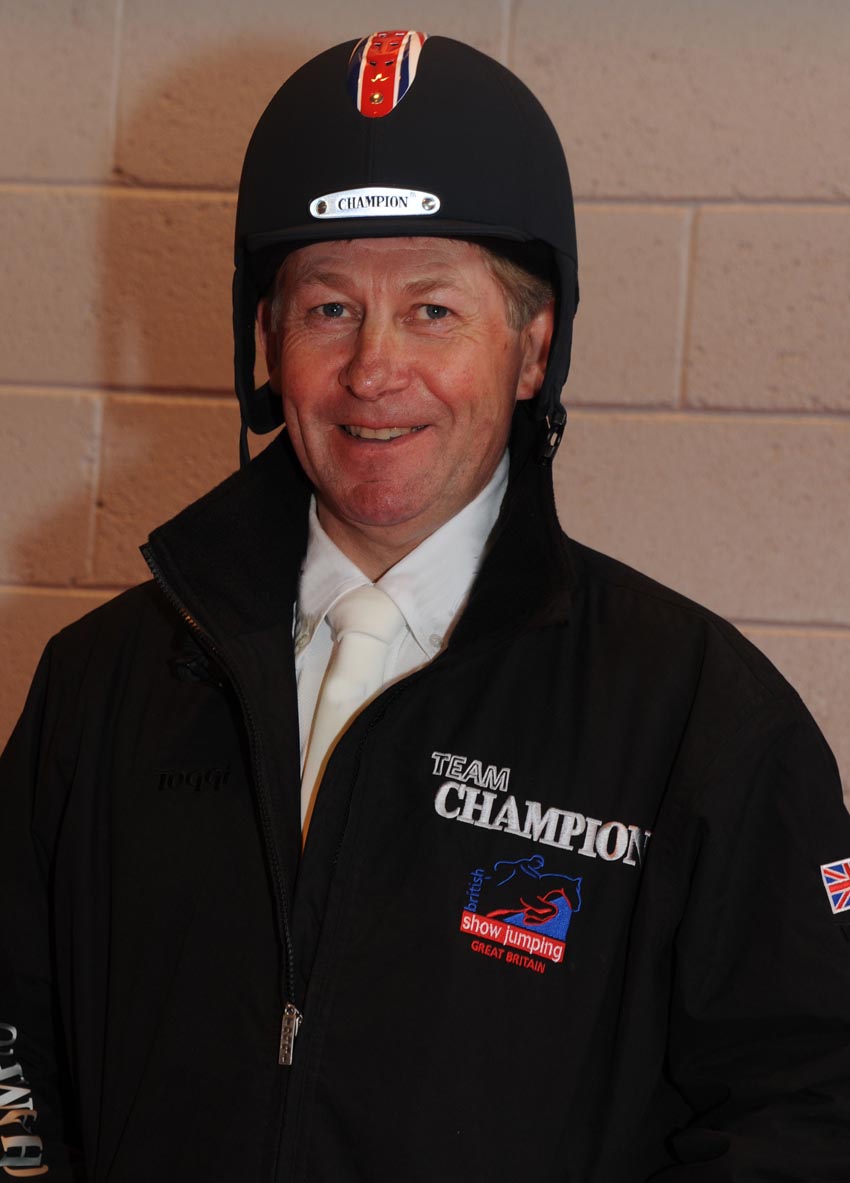 Great Britain's Nick Skelton followed up his team bronze with individual bronze at the European Showjumping Championships in Madrid. The 53-year-old knocked down one fence in each round of the individual competition on Carlo to post a final score of 9.04. Sweden's Rolf-Goran Bengtsson won gold on Ninja La Silla with 6.77 after just a single time fault in his two rounds.
Carsten-Otto Nagel took silver for Germany on Corradina with 8.96. Gerco Schroder had a chance to deny Skelton the bronze but the Dutchman recorded his first faults of the week on Eurocommerce New Orleans, his two downed fences leaving him in fourth spot on 9.54.
It was Skelton's first individual European Championship medal since he won bronze back in 1987.
He had won bronze in Friday's team event, along with Ben Maher, John Whitaker and Guy Williams.
Maher finished 12th in the individual event with a score of 15.76
Equestrian performance director Will Connell said: "Nick's bronze medal on Carlo is very well deserved; this is a young horse who demonstrates all the potential to win more medals in the future and rounds off an outstanding summer for the British team."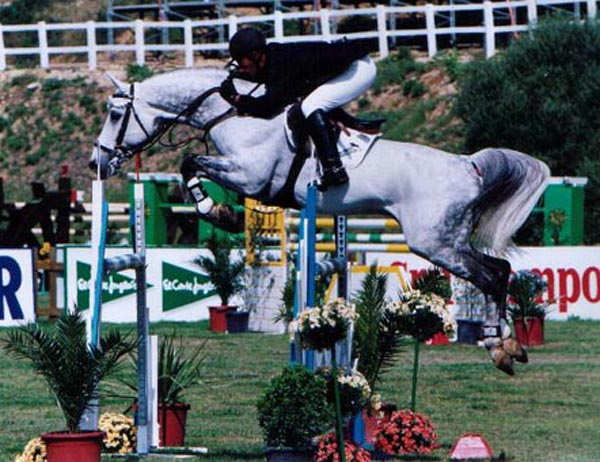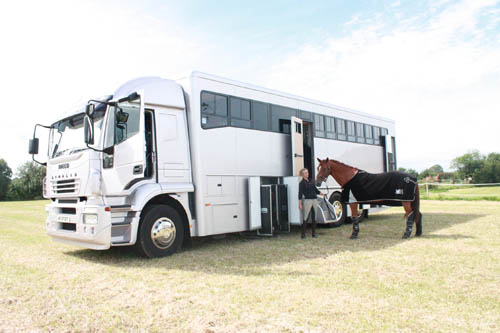 Horse Transporters
|
Equine Vitamins
|
Horse Shop
|
Equestrian Security
|
Stallions
|
Horse Directory
|
Oil Paintings For Sale
Equine Products
|
CCTV Security
|
Equine Marketing
|
GP Saddles
Related Articles
Nick Skelton Wins Rome Grand Prix
With the nation's best show jumpers, 28 jumping classes, 1,759 showing entries, international driving and the world's finest backdrop, the magnificent Windsor Castle, Royal Windsor Horse Show is set to be another magical horse show (15th-19th May 2002). Over 3,000 entries have been received.

A total of 1,198 entries have been received for the showjumping, including those from 9 of the top 10 riders in the UK including the Whitakers, Tim
Nick Skelton pulls out of Games after nose-diving off Arko
Nick Skelton has ruled himself out of next month's World Equestrian Games at Aachen in Germany, after Arko III refused at the fifth fence in yesterday's King George V Gold Cup, the closing contest of the Royal International Horse Show, and sent the British rider nose-diving to the ground.

The incident was hideously reminiscent of Skelton's fall in 2000 in which he broke his neck. This time, to everybody's great relief, he was quickly on his feet.

Arko, the leading horse on the world rankings for t
Nick Skelton gets high royal honors
Nick Skelton yesterday was at Buckingham Palace receiving in a ribbon and is now an Officer of the Most Excellent Order of the British Empire (OBE). The sevenfold Olympian won last summer team gold medal with Big Star at the Olympic Games in London. It is not often that riders get such a high award.
Nick Skelton's autobiography, Only Falls and Horses
Some of those who figure in Nick Skelton's autobiography, Only Falls and Horses (£18.95, Greenwater Publishing), will find this book a far from pleasant read. One imagines that Ted Edgar, his former manager and mentor to whom he first went as a 15-year-old schoolboy, will detest it.

Nick Skelton spent 12 years honing his skills with Ted and Liz Edgar and the horses that were stabled in their Warwickshire yard – among them OK with whom he was the Junior European champion in 1975. He d
Nick Skelton's cruel fate in redemption ride
The hush which fell across the Olympic Equestrian Centre as Nick Skelton and Arko III entered the ring was as pronounced and immediate as that produced by a respected teacher applying a finger to his lips. Just the rhythmic pounding of hooves on turf and exhalation through the stallion's nostrils punctured the silence of the showjumping ring. This was Friday night, an hour before Paula Radcliffe abbreviated her 10,000m final by more than a third of the 25 laps, a few miles across Athens.

If anything, Skelton's em
Nick Skelton starts his season off in style at the Winter Equestrian Festival, Wellington
The first week of the FTI Consulting Winter Equestrian Festival concluded yesterday and it saw a great start for Britain's Nick Skelton. Saturday hosted the first "Saturday Night Lights" event with the $30,000 Surpass Grand Prix. The week's course designer in the International Arena was Steve Stephens of Palmetto, FL. There were 36 entries, and 7 were clear in the first round.

The first to return for the jump-off was Irelands Cian O'Connor on Blue Loyd. They set a quick clear round in 42.642 seconds to start the
Nick Skelton Scores Again at the Winter Equestrian Festival
Nick Skelton has accumulated another win at the FTI Consulting Winter Equestrian Festival (FTI WEF) yesterday in the $32,000 WEF Challenge Cup 2. This week's course designer in the International Arena is Luc Musette of Belgium. Skelton commented, "Luc is one of the best course builders. He's very underestimated and he's one of the best course builders in the world for me. For the amount of people in it today, it was a good course and a good jump-off. It wasn't crazy big. You don't have to go in there every time and jum
Warwickshire`s Nick Skelton and Carlo Repeat Victory in $32,000 WEF Challenge Cup
For the second week in a row, Nick Skelton and Beverley Widdowson's Carlo led the victory gallop in the Thursday afternoon $32,000 WEF Challenge Cup Grand Prix in Wellington, Florida. Yesterday's class was the third in the series at the 2012 FTI Consulting Winter Equestrian Festival, which runs through 1 st April 2012.

The class saw fifty entries in the first round of competition showing over a course set by Olaf Petersen Sr. of Germany. Seventeen jumped clear to return for the jump off, and it was Warwickshire
William Whitaker Wins Arezzo Grand Prix
23 year-old Will Whitaker from Huddersfield won the Arezzo Grand Prix in Italy with Fandango the 10 year-old bay gelding owned by his partner Elizabeth Fredlund.

The combination, who have just been selected for the squad representing Great Britain in Linz next month produced one of the only four double clear rounds of the competition. With the prize money going down to twelfth place time was always going to be a
New dimension for the STUTTGART GERMAN MASTERS: 5 star CSI, World Cup show jumping and Conrad Homfeld, the course designer
The world`s best indoor show has reached a new dimension: Top level equestrian sports in five disciplines: show jumping, dressage, four-in-hand driving, vaulting and eventing have already been offered in the last 20 years, now there will be further innovations and a new status. When the STUTTGART GERMAN MASTERS, the 21st riding and show jumping show, will take place in the Hanns-Martin-Schleyer-Halle from the 16th to the
Cup boost for Peter Charles
PETER CHARLES boosted his Western European League World Cup ranking when equal-eighth in Saturday's qualifying round in Bordeaux, writes Louise Parkes. The Irish rider now lies third on the leaderboard, but Ludo Philippaerts leads by 24 points, with 82 points, after dead-heating on Saturday with Swiss Willi Melliger.

Peter Charles and Traxdata Amber du Montois lowered a single fence in the opening round of the comp