The Stable express equestrian directory, search thousands of equestrian business to find products and services you need. If you are an equestrian business add yourself for FREE.
Competitivejumpers.com
Competitive Jumpers Inc. is an equestrian development, sales and consulting firm based in Ottawa, Ontario and Bromont, Quebec Canada. Founded in 2007, by Kevin Loiselle and Kathy Bryden, CJ inc. specializes in guiding horses and riders to achieve their individual potential and goals, often in alliance with recognized accomplished equestrian professionals.Competitive Jumpers makes considered use of North America's rich depth of educated an ...


http://www.competitivejumpers.com

---

Hap Hansen Stables
Hap Hansen's winning grand prix career began in 1983 and he continued to be victorious from coast to coast and internationally for the ensuing twenty-five years on over twenty horses, including Juniperus, Zulu, Mirage and Amerika 7. His talent also topped the hunter divisions on numerous occasions, earning countless championships on many mounts making names for several stallions including Sir Caletto and Best of Luck.This extremely gifted ...


---

West Sussex Livery Yard
A friendly and spacious BHS-approved livery yard based in the village of Dial Post near Horsham, West Sussex. It is owned and run by Anne Hawes, who keeps her own horses for affiliated eventing and has run a livery yard, hired hunters and operated a horse and pony share scheme for over twenty years.Anne, who is third generation of a local farming family, has owned horses all her life and offers a unique service within the horse business a ...


http://www.west-sussex-livery.co.uk/

---

Epic Stables, Home of Canadian Show Jumpers Chris Pratt and Lisa Cahn
Providing excellence in all phases of hunter and jumper equestrian training and equine care from a World Class facility has long been the pursuit of CHRIS PRATT, renowned Grand Prix rider and trainer. This dream was finally realized in 2008 with the establishment of EPIC STABLES at the elegant Middle Ranch Boarding facilities in Southern California, convenient to Los Angeles, Pasadena, and Santa Clarita. With a staff of seasoned professionals, wh ...


---

Wildwoods Riding Centre
Wildwoods Riding Centre was established in 1976 by Anthea Chambers BHSII & SM. To find out how it al began go to the "How we started page". The centre is set in grounds of 20 acres at the foot of Epsom Downs, and has developed to become a top training and examination centre for the British Horse Society Assistant Instructor exams. Only 20 miles from Central London (find us on our map) it is surrounded on all sides by superb hacking country with v ...


http://www.wildwoodsriding.co.uk

---

HorseChoice.co.uk Fiona Burgoyne Show Jumping Yard
Fiona Burgoyne, my yard is situated in Edinburgh, Scotland (UK), from where I help match horses with new owners. Please use the Navigation menu above to browse the different sections of my website. The Introduction page explains a little bit about my background and the services I provide and the Horses for Sale section includes photos and video clips of the horses I currently have for sale. The Links section contains a list of my favourite sites ...


---

Bow Brickhill Stables
Bow Brickhill Stables is a full service equestrian center located in Hunterdon County, NJ, offering horse boarding, horse training, riding lessons and horse sales. We offer world class facilities, staff, trainers and instructors well-suited to the needs of riders of all levels (from children aged 5+ through grand prix).We welcome riders of all ages and abilities, whether show-bound or not, and maintain a relaxed and friendly atmosphe ...


---

Ceulemans Stables
The company "De Dwerse Hagen BVBA" is a stud farm that breeds show-jumpers. This is what you can call a division of the "Ceulemans-Stables". We also buy other promising show-jumpers through which we always have an interesting group of horses for sale of different training levels and different ages from promising youngsters up to more experienced show-jumpers.Many horses who are nowadays successful at the highest international level where ...


---

Stable Bost - Home Of French Show Jumping Rider Roger Yves Bost
More modern, more design, more complete and ergonomic, this new site of Roger Yves Bost will let you follow the news of our stables and the evolution of each rider. You can also download our presentation brochures, press kits ... and relive our moments more fun through new photo and video galleries. Roger Yves Bost is a leading french show jumping rider, Family Bost consists of three generations of riders, united by a passion for horses, ...


---

Lancyl Stables - Staffordshire Show Jumping Yard
Conveniently located just of junction 13 of the M6 Lancyl Stables is a showjumping yard run by local rider Francesca Tushingham, Francesca has many years experence working on show jumping yards and traveling the show jumping circuit. Francesa now brings her years of show jumping expereince for her own yard where she takes in horses for breaking and producing. Lancyl Stables are managed and run exclusively by Francesca Tushingham, a dedicated prof ...


http://www.lancyl-stables.co.uk/

---

Euro Sport Horses - Show Jumping Yard
Eurossport Horse is a leading UK Show Jumping Yard and Stud, and home of two international show jumping riders Helen Van Heyningen and Mennell Watson. Our aim is to breed and produce high quality competition horses in all disciplines. We have very well bred brood mares and numerous youngsters who all have great movement and a good technique over fences. Euro sport horse have produced many young horses up to top international standard a ...


http://www.eurosporthorse.co.uk

---

Friars Hill Stable
Friars Hill Stables is a family run business owned by Alison Brown and combines professionalism with a relaxed friendly atmosphere.Situated on the gateway to the North Yorkshire Moors the stables are only a short drive from Scarborough, York, Whitby, Malton and Pickering. Ample local accommodation is available in the area from self catering country cottages to AA rated hotels, see the Pickering website for more details www.pickeringtown.net ...


http://www.friarshillstables.co.uk/

---

Santana Stables Home Of Brazzilian Show Jumper Paulo Sergio Mateo Santana
Santana Stables – Wellington, Florida, home of brazzilian international show jumper Paulo Sergio Mateo Santana - Training and Sales Paulo Sergio Mateo Santana Phone - (561) 308-8206 Nextel ID - 124*417124*8. Sales Jennifer Santana Cell - (561) 308-8200 Nextel ID. The santana stables website has pictures, news and information from Paulo Sergio Mateo Santana along with horses listed for sale and horses sold div align="cen ...


http://www.santanastables.com/

---

Grayton Farms Home of Showjumpers Alex Grayton and Holly Burns
Since 2008 Alex Grayton and Holly Burns have been operating Grayton Farms Ltd out of their home in Priddis, Alberta, Canada. Their combined experience as well as their mentors and trainers, both past and present, have molded their training program into what it is today. A foundation of trust and respect for one another's knowledge is paramount to the success of their program.Alexander began riding as a child, and maintained an active inte ...


http://www.alexandergrayton.com

---

Linden Ridge - Home of Canadian Show Jumper Ainsley Vince
Ainsley Vince began her competitive career at the age of 10 under the guidance of Susan Pritchard. She was one of Canada's top equitation and hunter riders for many years, capping off her junior career with the CEF Medal and Hunt Seat Equitation Championship at the 1994 Royal Horse Show as well as a second place finish in the prestigious AHSA Maclay Medal Final at the 1994 National Horse Show.This state-of-the-art facility is an ideal tra ...


---

Millar Brooke Farm - Team Millar, Home Of Ian Millar, Amy Millar and Jonathon Millar
Millar Brooke Farm is located in the small town of Perth, Ontario, approximately one hour away from Canada's capital city Ottawa. This 650 acre farm was founded by Ian and his wife Lynn in 1972 and now hosts a first-rate training facility. The property features three barns, an indoor arena 85m long, a grass ring, a sand ring, a walker, trails and many paddocks.The dynamic business is now run by Ian, his daughter Amy and son Jonathon. T ...


http://www.millarbrookefarm.com

---

Burr Associates - Home Of American Show Jumper Leslie Burr Howard
Burr Associates has been successfully providing a full compliment of services to the competing equestrian since 1980. The Burr Associates team is proud to provide a program directed to facilitating riders from ponies, to equitation, to jumpers at the world class level.We have state of the art Grand Prix facilities in Newtown, Connecticut and Wellington, Florida. We also provide services at horse shows throughout the East Coast and Can ...


---

Ri-Arm Farm Home of American Showjumper Mark Leone
Ri-Arm Farm began with three young boys and three ponies riding at their parents' farm in Oakland, New Jersey the late 1960's. During their junior years, Mark, Peter and Armand Leone competed successfully across the country winning national pony hunter, hunter and equitation championships. All three brothers went on to compete in the jumper division winning many national Grand Prix competitions, including the Newport Jumping Derby, the Upperville ...


---

W.Charlot Farms
Augustin Walch has been breeding horses for over 40 (!) years , first in his native Germany and since 1980, for 30 years, here in North America. Augustin has carefully selected his stallions over the years (and he was very "lucky" on more than one occasion) and he believes in keeping the best mares for his breeding program. His goal has always been to breed an attractive looking, athletic horse with good gaits, lots of scope, a great technique o ...


---

Sunnybrook Stables
Sunnybrook Stables is located in the heart of Toronto. We are conveniently located in Sunnybrook Park, off Leslie Street, just North of Eglinton Avenue in mid-town Toronto. There are two outdoor sand rings, as well as a 20 by 40 meter indoor arena - assuring comfortable year round conditions for your riding lessons.Sunnybrook Stables is first and foremost a teaching facility. We offer instruction in English riding in both Hunter and Dress ...


http://www.sunnybrookstables.ca

---

Torrey Pines Stables home of Olympic Champion Eric Lamaze
Torrey Pines Stables is the home of Olympic Champion Eric Lamaze. A world-class training facility located just outside of Toronto, Torrey Pines Stables specializes in training equitation, hunter, and jumper riders seeking success in the show ring. Torrey Pines Stables also has a wide variety of sales horses available - find your next champion at Torrey Pines!Eric Lamaze was very successful as a junior and hunter rider, working with a numb ...


http://www.torreypinesstable.com

---
-
Stableexpress
-
Equestrian News
-
Show Jumping Yards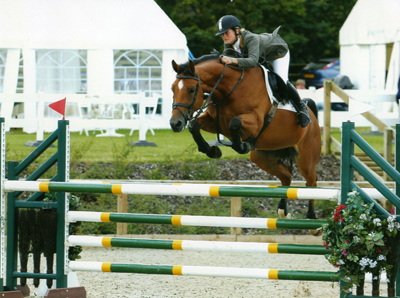 The stableexpress horse business directory, find information, contact details, website addresses of show jumping yards from around the world. Show jumping yards cover a vast range of services these include helping find horses to suit you, competing your horse in show jumping events, show jumping training lessons, breaking and producing horses.
Stableexpress business directory has 1000`s of showjumping yards listed from around the world from your small local showjumping yards to the yards of the worlds leading show jumping riders such as Nick Skelton, Jos Lansink, Ludger Beerbaum and many many others.
If you are a show jumping yard we can help you reach clients by adding your yard into the horse directory as well as being able to advertise your horses for sale in our equestrian directory, with thousands of visitors each month our horse business directory can help you make the best of your website.
Related Articles
World Show Jumping Yards
Search the showjumping horse business directory for show jumping yards from around the world with showjumping yards listed in Germany (Ludger Beerbaum, Lars Nieberg, Ott Becker, Meridith Michaels Beerbaum), Belgium Show Jumping Yards (Zangersheide Stud, Philippe Lejeune, Ludo Philippaerts), American Showjumpers stable yards (Hap Hansen, Anne Kursinski, Mark Leone) and of course show
Show Jumping Yards - Horses For Sale
We all have had the problem travelling around the country advert after advert looking at one horse at a time, we it may be worth going to a Professional show jumping yard or stud to find your new horse. Often with a selection of horses for sale to give you an excellent choice and possibly reduce your search. The Uk is now home to some fantastic show jumping studs, breede
Show Jumping Yards Jobs
From private family yards, to top international dressage, polo, showjumping, or driving yards. Maybe you are looking for a management, sales, PR or admin job the stableexpress equestrian jobs has FREE listing of jobs around the world.

Equestrian Business Directory > Stable Yards > Show Jumping Yards - Find show jumping yards from around the UK, Europe and he rest of the world
Show Jumping Yards UK
The stableexpress horse business directory, find information, contact details, website addresses of show jumping yards from around the world. Show jumping yards cover a vast range of services these include helping find horses to suit you, competing your horse in show jumping events, show jumping training lessons, breaking and producing horses.

Stableexpress business director
Search Engine Optimisation For Show Jumping Yards
Stableexpress combines our love of show jumping with our love of online marketing, we have a long history of building websites for show jumping yards and other equestrian businesses, but more importantly we understand the importance of ranking highly on google and other search engines. the term show jumping (broad match) accounted for over 60,000 searches each month on google alone,
German Show Jumping Yards
Stable Express > Horse Business Directory > Show Jumping > Show Jumping Stable Yards - The stable express equine directory can help you find information on show jumping yards and showjumpers from around the world, UK, USA, Canada, Brazil, Germany, France, Spain, Australia and many others. With information on show jumping riders and links back there website. If you are a show jumpin
Portuguese Show Jumping Yards
Stable Express > Horse Business Directory > Show Jumping > Show Jumping Competition Yards - The stable express equine directory can help you find information on show jumping yards and showjumpers from around the world, UK, USA, Canada, Brazil, Germany, France, Spain, Australia and many others. With information on show jumping riders and links back the riders official website. If yo
Chinese Show Jumping Yards
Stable Express > Horse Business Directory > Show Jumping > Show Jumping Stable Yards - The stable express equine directory can help you find information on show jumping yards and showjumpers from around the world, UK, USA, Canada, Brazil, Germany, France, Spain, Australia and many others. With information on show jumping riders and links back there website. If you are a show jumpin
Australian Show Jumping Yards
Stable Express > Horse Directory > Show Jumping > Show Jumping Yards - The stable express equestrian directory can help you find information on show jumping yards from around the world, UK, USA, Canada, Germany, France, Spain, Australia and many others. With information on show jumping riders and links back there website. If you are a show jumping rider and wish to add your website
Danish Show Jumping Yards
Stable Express > Horse Business Directory > Show Jumping > Show Jumping Stable Yards - The stable express equine directory can help you find information on show jumping yards and showjumpers from around the world, UK, USA, Canada, Brazil, Germany, France, Spain, Australia and many others. With information on show jumping riders and links back there website. If you are a show jumpin
Mexican Show Jumping Yards
Stable Express > Horse Business Directory > Show Jumping > Show Jumping Competition Yards - The stable express equine directory can help you find information on show jumping yards and showjumpers from around the world, UK, USA, Canada, Brazil, Germany, France, Spain, Australia and many others. With information on show jumping riders and links back the riders official website. If yo
Jobs At Show Jumping Yards
Stable Express > Horse Business Directory > Show Jumping > Show Jumping Competition Yards - The stable express equine directory can help you find information on show jumping yards and showjumpers from around the world, UK, USA, Canada, Brazil, Germany, France, Spain, Australia and many others. With information on show jumping riders and links back the riders official website. If yo
Norwegian Show Jumping Yards
Stable Express > Horse Business Directory > Show Jumping > Show Jumping Competition Yards - The stable express equine directory can help you find information on show jumping yards and showjumpers from around the world, UK, USA, Canada, Brazil, Germany, France, Spain, Australia and many others. With information on show jumping riders and links back the riders official website. If yo
Spanish Show Jumping Yards
Stable Express > Horse Business Directory > Show Jumping > Show Jumping Competition Yards - The stable express equine directory can help you find information on show jumping yards and showjumpers from around the world, UK, USA, Canada, Brazil, Germany, France, Spain, Australia and many others. With information on show jumping riders and links back the riders official website. If yo
Canadian Show Jumping Yards
Canada is a leading show jumping nation and is home to some of the worlds greatest show jumping yards, use the stableexpress equestrian directory to find show jumping yards in Canada, leading Canadian show jumping riders include Ian Millar, Erik Lamaze, Michel Vaillancourt, Jill Henselwood and many many others. If you own or operate a show jumping yard in Canada feel free to add you
Weyhill Horse Transport
Stableexpress online horse transport booking website. Don't waste time running around finding the best quotes and times for transporting your horse - stud cattle - alpaca - ram etc... Search our online horse transport directory or complete our simple online enquiry form to get a no obligation FREE quote on your horse transport needs.

Find Horse Transport - The Stable
Horse Livery Stables
Stableexpress equestrian directory - Livery Yards : directory of livery yards in the UK, Europe, USA and around the world. For those looking to promote their livery yard the stableexpress equine directory e is the ideal site on which to advertise livery yards online. All livery yards listed on stableexpress and also appear on our partner equestrian websites. - Riding Schools Livery
Breaking Young Horses
When a horse is between the ages of two and four years old it is ready to be ridden, but first the horse must be broken in, it is important that when breaking the horse in it is important to remain calm and you are patient. The time taken to break in the different horses varies greatly from horse it is important not to rush breaking in your horse and it is done correctly as how the
Dressage Instructors - Wolverhampton
Stableexpress equestrian direcory find riding instructors from around the UK. The UK`s leading equestrian website offering a comprehensive Equestrian Directory, search thousands of equestrian products and services, advertise your equestrian business free at www.stableexpress.com. Business Advertisers - To advertise your business in our comprehensive Equine Directory, viewed by milli
Show Jumper Stud
Stableexpress contains a comprehensive database of horse riding events covering all types and counties in the United Kingdom, Europe Usa and from around the world. With fixture list as well as past results and news stableexpress is a great way to keep upto date with what happening in the equestrian world.

<

Performance Ho
Lil Equine Link
There are Miniature Horse, Miniature Pony, Shetland & Miniature Donkey Farms listed as well as everything you will need to keep, breed, advertise and love your littlies!!

If you would like your Miniature related website listed here just use the SUBMIT LINK above - its free !

Please feel free to browse our Miniature sites and let us know if you find a broken link so we