SIRE: Froufrou D'anchin is by the french stallion Uriel stallion Rivage du Poncel who jumped Internationally with much success. As a 4 and 5 year old he held the record of 29 rounds without a fault. Rivage du Poncel has competed at some of the largest horse shows in the world and won and been placed at CSIO of Aachen, Madrid, St Gall, Barcelona, Geneva, WCSI of Bercy and Cannes to name but a few.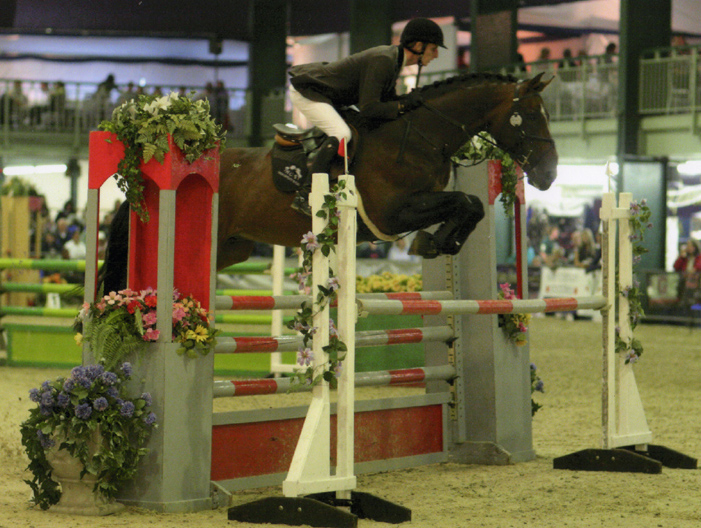 Uriel has been the leading French sire for several years. Uriel contributed to French breeding through 26 sons and he produced more than 100 International show jumpers.
DAM: Froufrou D'anchin`s dam is by Grand Veneur, Grand Veneur's dam Tanagra G produced two other CSI winners these being L'Elue de Veneur and O'Veneur. Grand Veneur was a very popular French stallion and he was often best sire by progeny winnings in the French national championships at Fotenbleau. Grand Veneur produced 14 Grand Prix show jumpers amongst them are Joli Coeur, winner of team gold at the Atlanta Olympics as well the individual bronze and team gold at the world championships. Another son of Grand Veneur is Le Tot de Semilly who is recognised to be one of the best breeding stallion in the world, Alison Firestone's Major is another International show jumper by Grand Veneur who under Thomas Fuchs finished second in the Aachen Grand Prix.
PERFORMANCE
Frou Frou D`anchin brings together two of the best breeding lines in France. As a young stallion Frou Frou competed very successfully in Europe up to grand prix level. In January 2002 Frou Frou D`anchin was purchased by High Offley Stud and unfortunately sustained a competition injury and missed most of the season. He began his long awaited come back at the Royal show where he accredited himself very well with a 2nd place in an 1.30m open competition.Frou Frou has continued his comeback winning and being placed in many open competitions, unfortunately he suffered a reoccurrence of the injury and it was decided to retire Frou Frou D`anchin from show jumping.
Frou Frou D`anchin then wen onto compete at affiliated dressage where he consistently won or placed in the competitions he entered, Frou Frou D`anchin is a very handsome 16.3 Bay Stallion with presence and character and has proved to be very popular Stallion with breeders.
High Offley Tipsy - High Offley Typsy is a lovely mare and combines some of the best jumping bloodlines available, bred at High Offley Stud she was kept to the age of 3 before being purchased by Paul Linning, who has had many successful horses from us. As a 4 year old High Offley Tipsy returned to us for breaking before being sent back to Paul to begin her showjumping career. High Offley Tipsy is proving to be an exciting prospect for the future and is proving to be a real winner for Paul, she qualified for the Discovery final for 2010 and is looking like a horse who will progress allot further.
Horses Return on Winning Form
Alec Trickett and the horses have come back from a few weeks break on winning form over the last 2 weeks the horses have competed at Prescot and Kingswood and at both shows came back with a red ribbon.
At Kingswood Frou Frou D'anchin jumped well to capture 1st prize in the 1.25m while the following week it was Niagra B's turn to win the 1.25 at Prescot with two lovely flowing round.