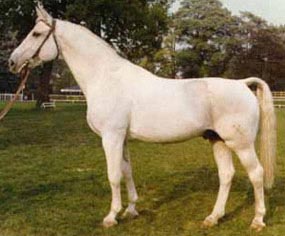 He was the sire of international showjumpers, Goya, Goldika, Gonzales, Galipolis, Queensway Big Q, Goldfink, Golden Gate, Graf Sieno and Graf 2. Gotthard's son, Genever sired Genius, the World Cup Showjumping Champion of 1992. Another son, Goldpilz is the sire of John Whitaker's Gammon. Gotthard has also been influential as a broodmare sire, another World Cup winner, The Natural (by Diskus) is out of a Gotthard mare, and Voltaire, the hugely influential Dutch based Hanoverian jumping sire, is similarly out of a Gotthard dam.
Gotthard was by Goldfisch II who was the sire of nine licensed stallion sons and who is the grandsire of another great, Grande. Goldfisch II descends from the nineteenth century Thoroughbred sire, Goldschaum. Goldfisch II had a reputation for producing beautiful horses and good movers, yet neither of his most famous sons had exceptional conformation - Graf was a small chestnut, like his son Grande, while Gotthard was not the most elegant of horses.
Eventually he was to produce over fifty horses to compete internationally and when in 1975, a list of top stallions was published, Gotthard was number one in terms of prize money won. Eventually his competing progeny numbered 398, with earnings of almost two million deutschmarks.