High Offley Stud are a leading Show jumping yard who have been highly succesfull in the show jumping arena, successes include many wins and placing inernationally in Portugal, Spain, Belgium and around the UK.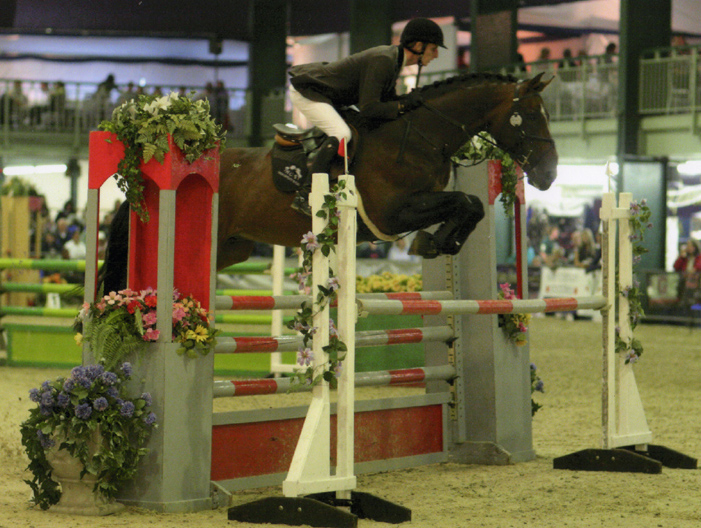 With a selection of show jumping stallions at stud, we breed with proven brood mares who have fantasic blood lines and proven show jumping records. High Offley Stud always have a selection of show jumping young horses for sale that have been bred to compete at the highest levels.
Show Jumping Breeding Stallions
High Offley Stud has been home to some of the country`s leading show jumping stallions including
- Holstein Showjumping Stallion Artuto 8 competed internationally in the showjumping arena with Geoff Glazzard and Geoff Billington.
- Its The Business, AES elite show jumping stallion competed by Geoff Glazzard, Its the Business stood at High Offley Stud for three years where he was one of the most popular show jumping breeding stallions in the UK
- British bred show jumping stallion Sunnora Son competed internationally and farther of advanced event horses and grade a show jumping horses.
- Crocodile Dundy Z son of olympic show jumping stallion Carthago Z, Crocodile Dundy Z is a stallion with tremendous show jumping ability and has already produce some exciting young showjumper for the future.
- Frou Frou D`anchin selle francais show jumping stallion competed internationaly and is sire of some excellent young horse prospects of the future.
- Fernando although only young horse Fernando is a very exciting horse for the future a coloured stallion with tremendous show jumping bloodlines, his sire Kannan is one of the leading show jumping stallions in Europe and has sired many successful show jumping horses.
Frou Frou D`anchin
- Selle Francais:- Rivage du Poncel x Grand Veneur
Frou Frou D`anchin combines the finest selle francais bloodlines to provide british sport horse breeders a fantastic oportunity to use a proven competition and breeding stallion. Frou Frou D`anchin was an international grade A jumping stallion and his progeny produced are proven competition horses. British Showjumping Stallion Showjumping Stallion At Stud
Sunnora Son
- British Bred Grade A Stallion: Its The Business x Sunnora
Sunnora Son is a proven show jumping stallion with two parents who both performed internationally It`s the business and Sunoroa. Sunnora Son has produced succesful advanced eventers and international showjumping horses
Crocodile Dundy Z
- Carthago Z x Ramiro Z x Saros xx
Crocodile Dundy Z has a fantastic showjumping pedigree, his sire Carthago Z has competed at 2 olympic games and sired many succesful showjumping horse. His grand sire Ramiro Z is one of the leading breeding stallions of all time with many succesful horses jumping internationally including the legendary showjumper Ratina Z winner of two olympic gold medals. Crocodile Dundy Z is an excellent showjumping horse with a powerful scoey jump he is currently jumping 1.30m opens and has all the jumping ability to be a star. His progeny are excellen types and look promising sport horses for the future.
High Offley Stud has a selection of top quality breeding stallions to choose from Froufrou D'anchin, Sunnora's Sun, Arturo 9 and Crocodile Dundy Z. All High Offley Stud stallions have excellent breeding and characteristics to excel as a sports horse in a variety of different spheres whether it be show jumping, dressage or eventing. Using our stallions could help you produce quality young stock for the future.