Christa Laarakkers
Christa Laarakkers is a dressage rider from Holland, born 1st September 1962, along with her horse SUPERHORSE ASTON MARTIN NL, Christa had success in FEI grand prix competitions. Below you can watch Christa Laarakkers in action riding Ovation in the FEI world cup qualifer Grand Prix Kur at London Olympia.
Maclennan Dressage Horses
LIVERY & TRAINING WITH US - Home of Maclennan Dressage Horses this exclusive equestrian venue specialises in quality sport horse training, livery & sales.
Relaunching with world class, on-site management & a dedicated team of staff we provide the ultimate in equestrian care for the competitive horse & rider. Our focus is the mental, nutritional & physical wellbeing of your competitive horse or pony. Our exceptionally high standard of care ensures you & your horse(s) are catered for as individuals. Our livery packages are tailored to maximise the combined potential between you & your horse, where nothing is too much trouble for us. Ideally located in Central Scotland, we aim to quickly establish regular clinics with International Instructors & to provide a superb venue for BD Competitions presided over by top Listed Judges.
LEARNING WITH US - Our School offers exceptional tuition for the Beginner to Grand Prix Rider. If you are interested in learning to ride, just fancy a relaxing hack in the sunshine or want to improve the current skills of you (or your horse) we have an option to suit you. Private, group & block lessons are available with our Qualified Instructors tailoring tuition to your (& your horse) requirements. We welcome your own horse or can provide one of our well schooled horses or ponies for instruction & our "Own a Pony Days" or "Pony Parties" are a perfect birthday gift.
Since relaunching we have held several highly successful clinics with International riders & trainers, whilst our shows of varying discipline have been very well supported! We look forward to welcoming you to our centre & stress that our fresh management strives to surpass expectations for both you & your horse. Please get in touch to discuss your requirements & feel free to visit us at any time!
INTERNATIONAL DRESSAGE - ROSCOBIE | FIFE, SCOTLAND, KY12 0SQ |TEL : 07725 816415
Volatis Defiant (aka "Gerry") joined us in Summer 2013.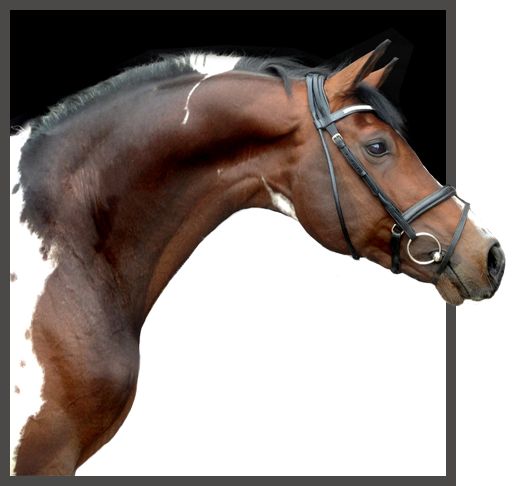 As with all of our competitive stallions his nature is as exceptional as his movement. Our striking young boy is by the expressive & Fully Graded stallion 'Showmaker' the highest placed stallion in his 30-day German Grading in 2005 & who's bloodline requires no introduction, with such dressage giants as Sandro Hit & Florestan, little wonder Gerry attained a BEF High First Premium!
Dam - 'Dee Dee G' originates from the famous Goshka Stud & carries the much loved Stanhopes blood combined with several classy TB lines. Dee Dee G attained Overall Broodmare Champion at the Northern Spring BSPA Grading in 2008 with an excellent score of 80%. Following a successful grading with the ZfDP Studbook all of her foals became eligible for branding & carry Pink Papers.
In addition to his lovely nature, Gerry is proving himself a definate "show man" having secured himself a place at the Scottish Farmer Dressage Championship with 70%+ in only his second outing. Gerry will combine his competitive career with stud duties for 2014, so please do contact us for availability dates etc. We (like most proud owners!) hope for the very best future & success for our genuinely lovely & exceptionally talented boy.
TOP QUALITY INSTRUCTION FOR ALL AGES & STAGES
Our Instructors are fully committed to improving your confidence & capabilities as a rider. From simply feeling more relaxed out hacking to competing at Grand Prix our tuition is pitched to your individual or group level. Lessons can be undertaken on our own well schooled horses, themselves in various stages of their own training, allowing us to cater for all rider stages. Tuition can be booked via phone or email & a horse will be allocated to the rider at that point. Tuition must paid for upon arrival & clients are requested to arrive at least ten minutes before the lesson commences to ensure this.
INTERNATIONAL DRESSAGE TRAINING TO GRAND PRIX
Our Backing / Training option provides full livery with daily turnout & grooming, where your horse is worked six days per week. An initial assessment is undertaken & the final degree of finishing discussed so that training is structured to your desired goal with regular updates provided as standard. Backing / Training livery is £150 p/w.
WHO WILL BE TRAINING YOUR HORSE?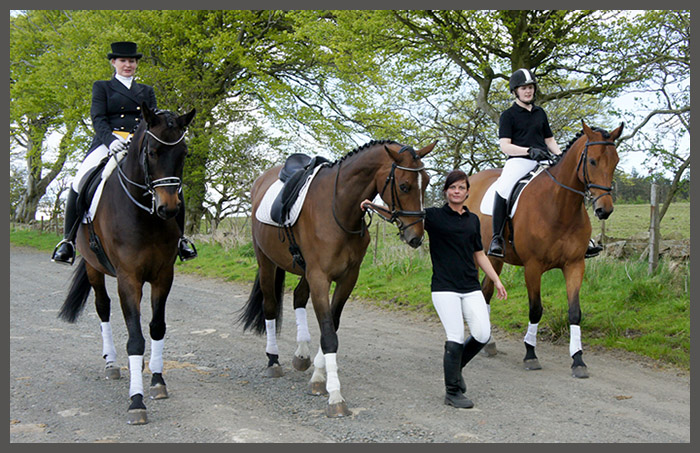 Anne Maclennan has an extensive international working & competitive career spanning over three decades. Since winning her first jumping title aged seven, Anne has ridden for & trained with owners, trainers & judges, competing numerous horses throughout US, Europe & UK. She now combines her successful FEI competitive career with producing young horses & training others, having worked with some of the most respected USA professionals including Steffen Peters & David Wilson.
Anne remains one of very few females to tour as a solo with the most impressive Haute Ècole companies in the world - including;
Royal Lippizzaner Solo Rider 1997
USA National Dressage Tour 1998
Camelot Dressage Rider (High School)1999
Lippizzaner World Tour 2000
Anne brings both human & equine students the synthesis of her diverse experience. Her patient, disciplined approach gains results through a systematic & classical process. Offering a rare combination of hard work & infectious enthusiasm to her teaching where students unanimously enjoy learning & improve quickly - although there are no shortcuts for her students!
In addition to backing & training young horses (& their owners) Anne is skilled in training young stallions in preparation for Gradings & approaches this with the same dedication that years of classical training have developed. Anne's guiding principle is to keep the tradition of classical riding. While the process is gradual, it is the key to building a good foundation that carries both horse & rider through the levels. Currently developing her beautiful & talented nine year old German gelding Filou, by Florestan (shown above) & her up & coming five year old for the Young Horse Classes.